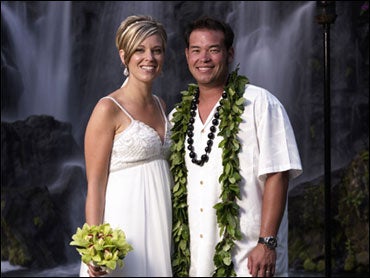 Kate: Jon's The One Who Wanted Out
Now that Jon and Kate Gosselin's split is official, new details are emerging about their 10-year marriage, and the lives they led off-camera.
In her first interview since filing for divorce, Kate told People magazine Jon wanted out for a long time.
"He does not want to be married to me anymore," Kate told People. "No questions asked, he went and hired a lawyer and said you better get one. So I did. I never would have made that step; I never would have done it."
Monday night's show, in which the couple announced their separation and divorce, drew a record audience of 10.6 million viewers.
When they told their eight kids, Kate told People, she and Jon never used the words "separation" or "divorce."
"I'm not naïve," she said. "I know that my kids will come out of this, to a degree, with some sort of dysfunction. I'm not stupid."
Michelle Tan, a senior writer for People magazine, said on The Early Show Wednesday that Kate is "going through a myriad of emotions."
"There are days where she feels relief," Tan said. "Right now, this is the end of a lot of tension that's been building for the last six months. To actually have a resolution, albeit not a happy one, she's sensing some relief but, at the same time, she's feeling like she's failed. This is a woman who has never quit at all at anything she's ever done."
Tan added one of the 8-year-old girl twins actually said the announcement wasn't a surprise to her, and she could have guessed it would happen.
As for the smaller children, Tan said it's going to take time for the news to sink in.
She said Jon and Kate have told the children their lives will continue much like where they are now. But, Tan said, Jon and Kate will take turns being in the house.
The couple plans to spend equal time with their children at the $1.1 million house they moved into last year, with Kate staying elsewhere when Jon has custody and Jon making other living arrangements when it's her turn, according to a statement Jon released to the media.
"And the little kids just said, 'You know what, it's great, when is my next snack?"' Tan said. "They're very young. It will take time for them to register."
Kate insists the show isn't to blame for the dissolution of their marriage.
She told People, "This is a situation that absolutely would have happened whether the cameras were here or not. I don't want people thinking we traded marriage for fame. Ever."
Attorneys for both Jon and Kate Gosselin said Tuesday that the couple lived together on their Berks County, Pa., compound until recently.
But, the divorce filing, according to People, claimed Jon and Kate had been living separate lives for two years. Kate's lawyers explained that away, People said, as a misunderstanding of "legalese."
"They have been living 'separate and apart' just within the last week or two," said Jon's attorney, Charles Meyer, using a term from the divorce petition.
But, as CBS News correspondent Susan Roberts reports, the official word of the moves for divorce has raised the question: How much of the Gosselins' reality show was real -- and how much was staged for the cameras?
Kate's lawyer, Cheryl Young, said Tuesday the couple has already started negotiating the terms of the divorce.
TLC has halted production of the show, People says. The next new episode, the magazine said, won't air until August.

Thanks for reading CBS NEWS.
Create your free account or log in
for more features.