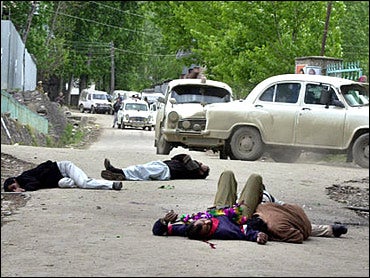 A grenade explosion and gunfire at an election rally in Indian-held Kashmir on Thursday killed nine people and wounded at least 56, including the state's tourism and finance ministers, police said.
The rally was being held by the state's governing People's Democratic Party ahead of national parliamentary elections to begin April 20.
Police said they suspected Islamic militants in the attack and a man who said he was with the little-known rebel group Save Kashmir Movement quickly claimed responsibility.
But the president of the PDP said she didn't believe insurgents were behind the assault in the border town of Uri, 60 miles north of Srinagar, the summer capital of Jammu-Kashmir state.
Nine people died — eight of whom were civilians and the other a police officer — and at least 56 others were wounded, according to Dr. S. Jalal, administrator of the Sher-e-Kashmir Institute of Medical Sciences, where most of the wounded were being treated.
State Finance Minister Muzaffar Baig and Tourism Minister Ghulam Hasan Mir were among those hurt, said police officer Junaid Ahmed.
Baig sustained shrapnel wounds in his abdomen and legs, while Mir suffered injuries to his back and legs, Ahmed said, adding that their injuries were not life threatening.
Some security officials blamed militants fighting for the independence of Kashmir or its merger with neighboring Pakistan for the attack. The insurgents have opposed India's elections, and have called for voter boycott.
"This is most condemnable. These are attempts to derail both the peace process and the poll process … But we are determined to defeat such intentions," said Jammu-Kashmir's Chief Minister Mufti Mohammad Sayeed.
Minutes after the explosions and gunfire, PDP president Mehbooba Mufti, surrounded by bodyguards, told Associated Press Television News that she believed the attack was carried out by those opposing the reopening of a crucial highway between the capitals of divided Kashmir.
The Himalayan region is divided between India and Pakistan. Both claim the entire territory, and have fought two wars over it.
"We know which elements are responsible for this. Militants are not behind it. They don't operate in Uri area," said Mufti. "This happened because some people do not want the highway to Muzaffarabad to reopen."
During a ongoing thaw in relations between longtime enemies India and Pakistan, both sides have talked about launching a bus service on the Muzaffarabad Highway, which runs from Srinagar to the capital of Pakistani-controlled Kashmir.
Some Kashmiris believe the federal government and army are privately opposed to reopening the highway because it would create logistical problems and possibly even help the militants.
The state Interior Minister A.R. Veeri said it was too early to say who was behind the attack.
"It is a matter of investigation. We have ordered an inquiry into it and it will only be possible to identify culprits after the investigations are done," Veeri told The Associated Press.
The blast was followed by firing from a house near the rally, causing gunshot wounds to many people, the officer said.
The grenade was set off just after Mufti and Baig arrived, eyewitnesses said. Some people fled in confusion as Mufti and Baig were whisked away by paramilitary soldiers.
An ambulance carried five seriously wounded people to a hospital in Baramulla, a town 30 miles south of Uri, Ahmed said.
More than a dozen militants groups have been fighting for Kashmir's independence from India or its merger with neighboring Pakistan since 1989. More than 65,000 people, mostly civilians, have been killed in the conflict.
The Islamic militants have vowed to continue fighting Indian forces despite a cease-fire between the Indian and Pakistani armies over the disputed Kashmir and unprecedented peace moves by both nuclear-armed rivals.
Pakistan and India, both former British colonies, have disputed control of Kashmir since they both gained independence in 1947. Two of the three wars between the two countries have been waged over the region, which is Muslim majority but held by Hindu-dominated India. War almost broke out again in 2002.
Thanks for reading CBS NEWS.
Create your free account or log in
for more features.