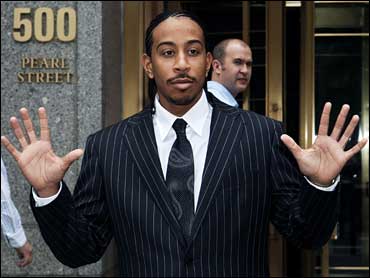 Kanye & Ludacris Win Copyright Trial
Kanye West and Ludacris won fame with chart-topping hits that have become anthems in the hip-hop world.
On Thursday, the rappers scored a legal victory when a jury in a copyright infringement trial concluded that one of those songs — 2003's "Stand Up" — did not copy a tune by New Jersey musicians.
"I hope the plaintiffs enjoyed their 15 minutes of fame," Ludacris said after the verdict was announced. "This whole experience is proof to me of why I will always fight for what I believe in."
Ten jurors returned the verdict after less than a day of deliberations in the two-week trial in U.S. District Court in Manhattan.
West was not in court.
Outside the courthouse, Ludacris signed autographs and posed for pictures before leaving for Los Angeles to promote a documentary he narrated about a female basketball team in Seattle.
Ludacris said he never doubted the jury would agree that the song he and West created did not sound like "Straight Like That," a tune created by an East Orange, N.J., group named I.O.F., or It's Only Family.
"The only thoughts and ideas I borrow from are those of my own," Ludacris said.
"Straight Like That" never made it beyond some air time on college radio after copies of it were released in September 2001. "Stand Up" was released in the fall of 2003 on Ludacris' album "Chicken and Beer" and became a huge hit.
At issue in the trial were the words "like that," repeated more than 80 times in each song, though one song precedes the phrase with "straight" while the other precedes it with "just."
Jeff Billingsley, a plaintiff and owner of Cobble One Records, of Newark, N.J., said the verdict will be appealed.
He said the plaintiffs were damaged when the judge excluded their music expert from testifying as part of sanctions taken against a lawyer who was dismissed from the case before trial.
Mel Sachs, the lawyer who argued the case for the plaintiffs, said the issue provides the group with a stronger case on appeal.
"We were at a severe disadvantage," he said.
Sachs said the verdict was disappointing but understandable since the plaintiffs could not present their expert.
Ludacris, whose real name is Chris Bridges, has been praised for his music and his acting roles as Anthony in the Oscar-winning "Crash" and as Skinny Black in "Hustle and Flow."
West has won six Grammy Awards for his two multiplatinum albums, "The College Dropout" and "Late Registration." He is known for his outspoken nature, including when he said President Bush "doesn't care about black people" during a telethon for Hurricane Katrina victims.
When West testified last week, he said he had sympathy for the New Jersey group.
"It's like that glimmer of hope. You're this close," he said. "I've been in those shoes. It's hard to make it in this game. I understand why they would sue."
Ludacris, though, said after the verdict that he saw one of the plaintiffs fall asleep during the trial and was thinking he was not going to let someone like that "ruin my reputation."
"I feel no sympathy," he said, "not at all."
By Larry Neumeister
Thanks for reading CBS NEWS.
Create your free account or log in
for more features.