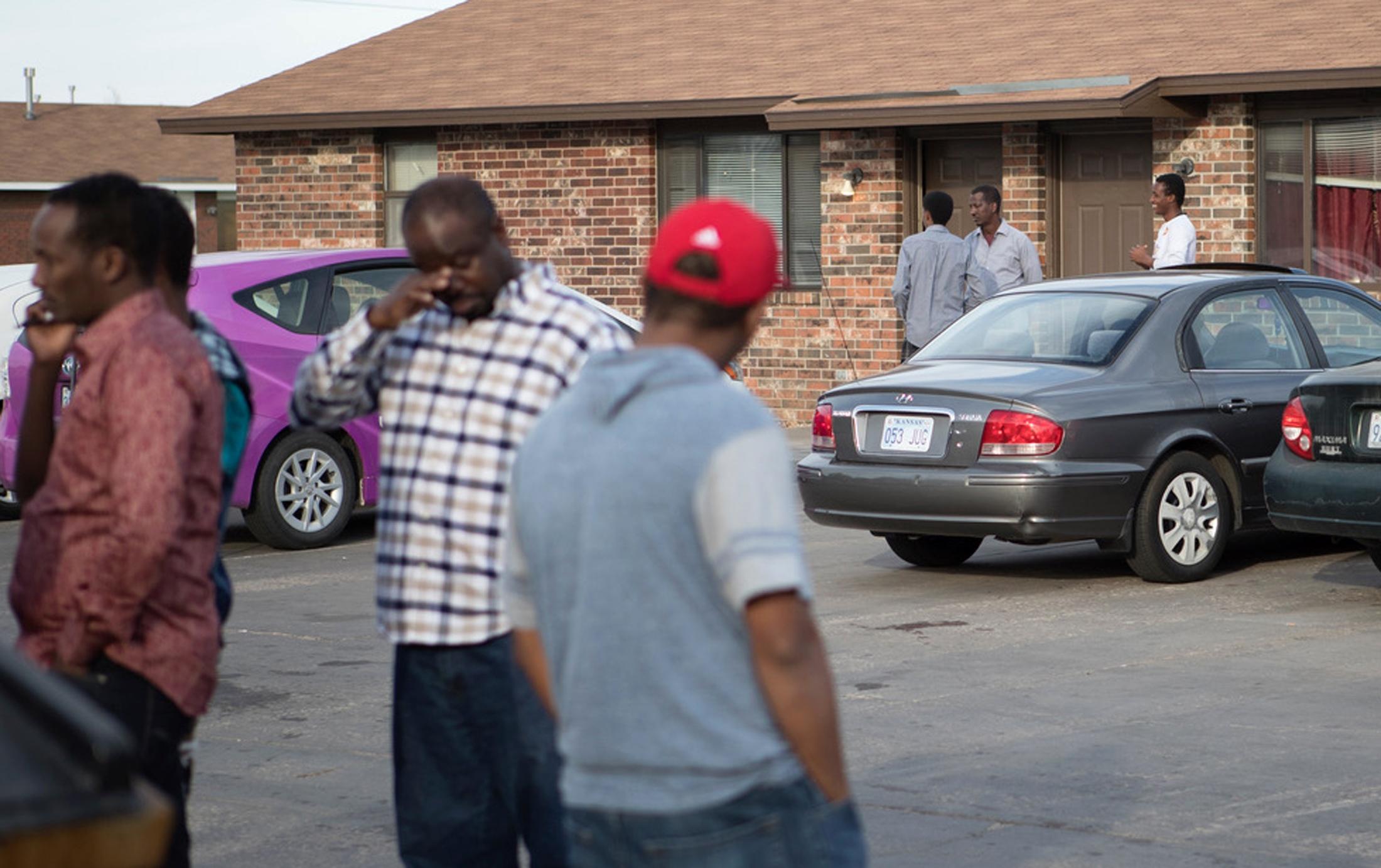 Some Kansas Muslims say they're afraid for their lives
GARDEN CITY, Kan. - Law enforcement sought Saturday to reassure immigrants in a diverse western Kansas community of their safety after three men were accused of plotting to target Somali immigrants there.
A complaint unsealed Friday charged Curtis Wayne Allen, 49; Patrick Eugene Stein, 47; and Gavin Wayne Wright, 49, with conspiring to use a weapon of mass destruction in Garden City. The men are members of a small militia group that calls itself "the Crusaders," and whose members espouse sovereign citizen, anti-government, anti-Muslim and anti-immigrant extremist beliefs, according to the complaint.
Prosecutors said the men don't yet have attorneys.
The suspects planned to detonate truck bombs around a small apartment complex where about 120 Somali residents live, according to the complaint. Prosecutors also said the men talked about attacking some of the area churches that have helped settle refugees and helped them get jobs at Tyson Foods, the meat packing company that has drawn a diverse immigrant population to the area.
Hundreds of Somalians, Malaysians, Burmese and others gathered around FBI agents and law enforcement officers for a briefing early Saturday, The Wichita Eagle reported.
"The only answer I can give you about why this happened is that they wanted to attack your religious beliefs," Police Chief Michael Utz said. "But you need to know that whether you are an immigrant or not, you are all Garden Citians."
"Some of you have said you can't go to your mosque to pray, or that you can't go to your homes because you are afraid," Utz said. "But we and the sheriff and the FBI are here to say that you are safe in Garden City, and safe in the United States of America."
CBS Wichita affiliate KWCH reports some members of the Somali community were helped by the talk the chief gave.
"I didn't sleep very well, but today when I saw the police and heard the police, all the people in the community coming here, I was feeling very, very happy," said Frah Farah, a community member. "I will sleep very well tonight."
Dalma Ali Warsame, a 34-year-old Somalian, said Somalia had no government "and no safety," which was why he came to the U.S. Now he has a wife and two daughters, ages 1 and 3, who are frightened, as is he.
But he says he likes it in Garden City and wants "to stay a long time."
Mahad Jama, a Somalian who works at Tyson, said he has always felt welcomed.
"I see white people at Tyson, at the gas station, everywhere, and everyone is my friend. I don't know what's going on here," he said.
John Doll, a former Garden City mayor and candidate for the Kansas Senate in the November election, said he was told he was one of the targets discussed by the group.
"This is terrible, because these people they targeted are great people; they work hard, pay taxes, obey the laws," he said. "Why would anyone want to hurt them?"
Debra Bolton has studied the immigrant populations for years, currently for Kansas State University and said 35 languages and dialects besides English are spoken in Garden City schools. Of the 40,000 people in Finney County, only 46 percent are of white European descent, and there are about 500 Somalians, she said.
"This is devastating to the community," she said.
Mohamad Saufar, a 13-year-old Malaysian Muslim who lives across the street from the targeted apartments, said his mother won't let him play outside now. His 9-year-old sister tried to reassure him.
"Now they are in jail," Nurjannah Ezaharhussain said of the suspects. "And they won't get out until, like, forever!"
Thanks for reading CBS NEWS.
Create your free account or log in
for more features.