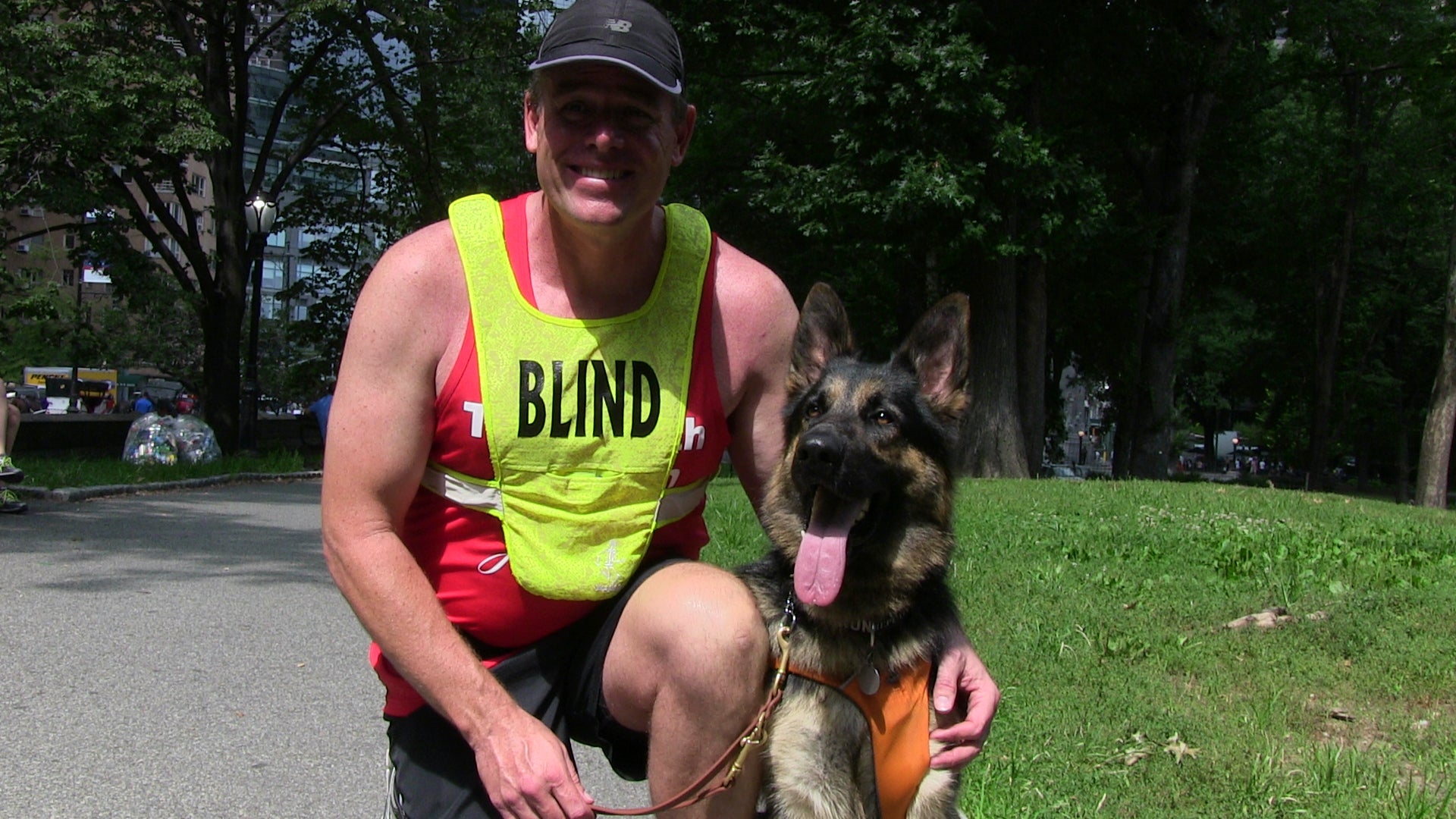 Guide dog gives blind marathon runner "freedom"
This story originally aired on October 1, 2015.
Guide dogs have proven that they are more than just "man's best friend," offering the greatest assistance to those who are visually impaired. But one special dog is also helping his best friend stay active, reports CBS News correspondent Barry Petersen.
Richard Hunter is blind. His German Shepard, Klinger, is the only one in America that is trained specifically to lead a blind runner.
"So what Klinger does when he runs with me is no different than his regular guide dog work, he's just moving at a slightly faster pace," Hunter said. "He can be highly focused."
Hunter started losing his sight in his twenties when he was a Marine Corps 2nd Lieutenant. Now 48 years old, he's almost completely blind. But despite that loss, Hunter started competing in triathlons with the help of human guides. One day during a bicycle training ride, Hunter and his guide collided with a car, sending him through the windshield and breaking his neck. Just three months later, he was back running races, and nine months after the accident, he ran the Boston Marathon. There he spotted Thomas Panek, president and CEO of "Guiding Eyes For the Blind," a nonprofit organization that trains guide dogs for the blind.
"Richard shouted out, 'I'm really curious, have you ever trained a guide dog to run?' And I said, 'I don't know. It hasn't been done,'" said Panek.
Trainers Ben Cawley and Jolene Hollister devised a new training program and over six months, they taught Klinger to navigate curbs and obstacles at a faster pace, which also trained him to think faster.
"He took every challenge we threw at him, accepted it, exceeded it and gave us the ability to ask for more," Hollister said. "As rewarding as training Klinger was, being able to work with Klinger and Richard together and watch the relationship develop with the two of them was a truly inspirational time for me that I'll never forget."
The partnership started with more training at a New York Park, and goes on today at their California home. Klinger can run six miles at a time. He memorizes each of their path, is always on the lookout for obstacles, and most importantly, creates a new kind of "independence" for Hunter.
"It gives me a lot of freedom," said Hunter. "You know, with Klinger in my house, you know, now we have the flexibility that once he learns my routes that we're going to be able to, you know, leave the house whenever we want to and it's just him and I."
Klinger is the first running dog to graduate from Guiding Eyes' Running Guides Pilot Program, but Hunter hopes that others may also someday share what he and Klinger now have. He is currently fundraising in order to help support this mission.
"If this program is successful, it is going to create the foundation for other people to follow in my footsteps," said Hunter.
Thanks for reading CBS NEWS.
Create your free account or log in
for more features.