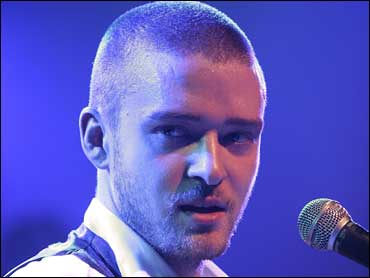 Justin On Britney: 'I Was Infatuated'
Justin Timberlake opens up about his messy break-up with pop star Britney Spears in the new issue of GQ magazine, which hits stands July 25.
He tells the magazine that back in 2002 when the couple initially parted ways, "I felt like she had a couple of opportunities to just sort of stick up for me, and she didn't. Which is fine. But at that time, you know, I fought back, and that's the way I fought back. I used my mind. I came up with a song."
That song was Timberlake's solo hit, "Cry Me A River." Timberlake adds that he dealt with the split by seeking "the affections of many young females."
The singer, who is gearing up for the release of his new album "FutureSex/LoveSounds" on Sept. 12, says that fell head over heels for Spears back when they met as Mouseketeers on the Mickey Mouse Club when he was 11.
"I was in love with her from the start," the singer tells writer Lisa DePaulo. "I was infatuated with her from the moment I saw her."

Though he admits that he doesn't talk to the domesticated singer now (he calls the relationship "a distant thing") he wishes her well. "I want to see her win," he says. "I don't think you can ever count somebody like her out. Because she may appear one way, but she's very clever."
Spears, 24, who is pregnant with her second child with husband Kevin Federline, recently appeared naked on the cover of Bazaar magazine.
In the interview, Timberlake was more guarded about his latest relationship with actress Cameron Diaz, 33, who he's been dating for three years. He labels this relationship as more "adult."
"For me, this time around, it's been important to stay, at least as much as I can, out of the limelight," he tells GQ. "And I think that's made it more enriching. I've received so much more from it by keeping it just between the two people it's supposed to be between. Some people, especially here, are happy to offer themselves up in that way. But I come from a small town where, like, to give someone privacy means to give them respect."

He thinks their relationship is still going strong because: "There's no pretense about anything. It's just a sort of coming together of two people."
Timberlake, who lives alone in Los Angeles with his two dogs, Buckley and Brennan, doesn't seem to be planning on shacking up with her anytime soon. "I have my own house. It's very important. Healthy. Don't you ever need your own space?"

"SexyBack," the first single off Timberlake's new album was released July 7. The song is available at Timberlake's MySpace page. He describes the new album's sound as "so progressive" and so far the buzz surrounding it has been good.
Timberlake's solo debut "Justified" went multi-platinum.
"It's very different from the last album. Like, the last album, so much of what was happening in my life was fed into the album. And people would psychoanalyze the songs," he says. "But I didn't care, because it meant they were actually listening to the songs. It sent everybody into this guessing game, which — I can't lie — was sort of fun for me."

The former boy band heartthrob also has several films due for release, including "Alpha Dog," directed by Nick Cassevetes, "Black Snake Moan" co-starring Christina Ricci and Richard Kelly's "Southland Tales," and a voice role in next year's "Shrek The Third."
Timberlake tells GQ that the biggest mistake of his career thus far was his 2004 Super Bowl performance in which he scandalously ripped off Janet Jackson's top and her breast was exposed on national television. As for the reported hook up between the two, he says, "I'm not gonna go too far into that."
But Timberlake did say that his break-up with Spears topped the Super Bowl debacle. "Especially when you loved that person half your life," he says.
Lisa DePaulo's interview with Justin Timberlake will appear in the August issue of GQ magazine.
By Amy Bonawitz
Thanks for reading CBS NEWS.
Create your free account or log in
for more features.