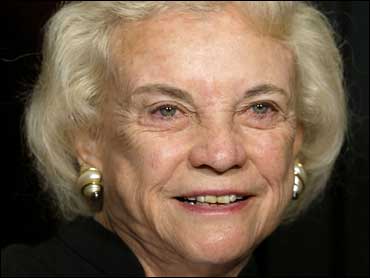 Justice O'Connor's Husband Finds New Love
The husband of retired Supreme Court Justice Sandra Day O'Connor has struck up a romance with a woman who is a fellow Alzheimer's patient and lives at the same assisted living center as him, according to a television news report.
The retired justice isn't jealous about the relationship and is pleased that her husband is comfortable at the center, the couple's son, Scott O'Connor, told KPNX in Phoenix in a broadcast that aired Thursday.
"Mom was thrilled that dad was relaxed and happy," Scott O'Connor said. An effort by The Associated Press to reach Scott O'Connor on Tuesday morning was unsuccessful.
An official with the assisted living center was quoted as saying people with Alzheimer's need intimacy and sometimes develop romantic attachments with fellow patients.
John O'Connor was diagnosed with Alzheimer's 17 years ago and was sad when he moved into the assisted living center, his son said.
"Forty-eight hours after moving into that new cottage he was a teenager in love," Scott O'Connor said. "He was happy."
The news report showed video footage of John O'Connor holding hands with a woman identified only as "Kay." The retired justice wasn't shown in footage taken at the center.
Though Sandra Day O'Connor, 77, did not appear in the television report, it gave a rare look at the life of the nation's first female justice, USA Today reported. The family's willingness to highlight an aspect of a heart-wrenching illness recalled O'Connor's decision in 1994 to go public with her feelings about breast cancer.
In a speech to the National Coalition for Cancer Survivorship, she spoke about discovering the cancer in 1988 and undergoing a mastectomy, the paper reported.
Scott said, "For Mom to visit when he's happy … visiting with his girlfriend, sitting on the porch swing holding hands," was a relief after a painful period, according to USA Today.
The O'Connors, who have three children, met at Stanford Law School and married in 1952, according to the paper. John O'Connor left a partnership at a Phoenix law firm to come to Washington with his wife in 1981. He worked for D.C. law firms but was limited in his ability to take on matters that could come before the justices.
As her husband's disease became more difficult to handle, O'Connor retired, the paper reports.
Thanks for reading CBS NEWS.
Create your free account or log in
for more features.