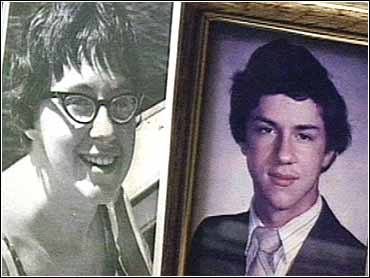 The people in Grafton County, N.H., are surrounded by beauty. But the citizens of this picture-postcard communty are haunted by the possibility one of their own has gotten away with murder.

Correspondent Peter Van Sant reports that what appeared to be an open-and-shut police investigation into a fatal 1982 car accident may have been closed too soon.

Nineteen years later, Kelly Sutherland still cannot accept the fact her high school sweetheart, Steven Dow, died in the crash.

"If he was going to break my heart, it should have been the way kids break each other's hearts. It shouldn't have been by the fact that I woke up one day and he's dead," says Sutherland.

Dow was a typical teen-age boy with a passion for cars and sports.

If you believe the official police report, Steven Dow was driving with his mother Janet, when their car rolled into a ditch and caught fire on a New Hampshire road. They were both incinerated.

"I'm not sure I can describe it. I almost blacked out, quite frankly," says
Wally Madeiros, Steven's father and Janet's ex-husband, about the moment he learned his son and ex-wife were dead.

About a year after Madeiros and Janet were divorced, she remarried a state trooper named Dick Dow, who adopted Steven. Dow was a respected police officer. Janet was a mail carrier, who was friendly with everyone. They all seemed happy.

Then, in the dark morning hours of December 10, 1982, one of the Dow's neighbors, John Spurling, saw a fire on the side of the road.

"As I approached the flames, I could actually see that I had a car in the ditch," says Spurling who was a retired fire chief at the time. "I could see that I had a victim in the driver's seat and also that this victim was beyond anything that I could do for them."

Janet, age 40, and 18-year-old Steven were burned beyond recognition just 500 feet from their own home. "I remember looking up, and I could clearly see lights on" in the Dow's home, recalls Spurling. "And I could even remember feeling a little desperate sense of, 'Gee Dick, come on down and help me.' He is a police officer.... Assuming he must have heard that eplosion, he should have been able to see the flames. They were very close by."

But Dow never came. The state police knocked on his door to break the news to their friend and colleague.

John Tholl, police chief in nearby Dalton, went to the police academy with Dow and was a state trooper at the time. "I believe everybody felt that this was one of those tragic, unfortunate incidents that happened, and God knows why," he says.

The investigation was brief; there were no autopsies, no interviews, and the car was destroyed within days. "I think it was done in a manner that was...aimed at being compassionate towards Dick because he lost his family," explains Tholl.

The police concluded it was an accident because of what Dick Dow told them: Janet might have been distracted because she had been arguing with Steven as they drove off that morning.

But the crash never made sense to Kelly Sutherland, especially when she observed Dick Dow's behavior. "He started dating almost immediately after this happened, and I was really put out by that," she says.

Dow moved away, and no one heard much about him until someone came forward, 11 years after the accident, with a far more sinister story of what really happened that morning.

© MMI, CBS Worldwide Inc. All Rights Reserved
Thanks for reading CBS NEWS.
Create your free account or log in
for more features.