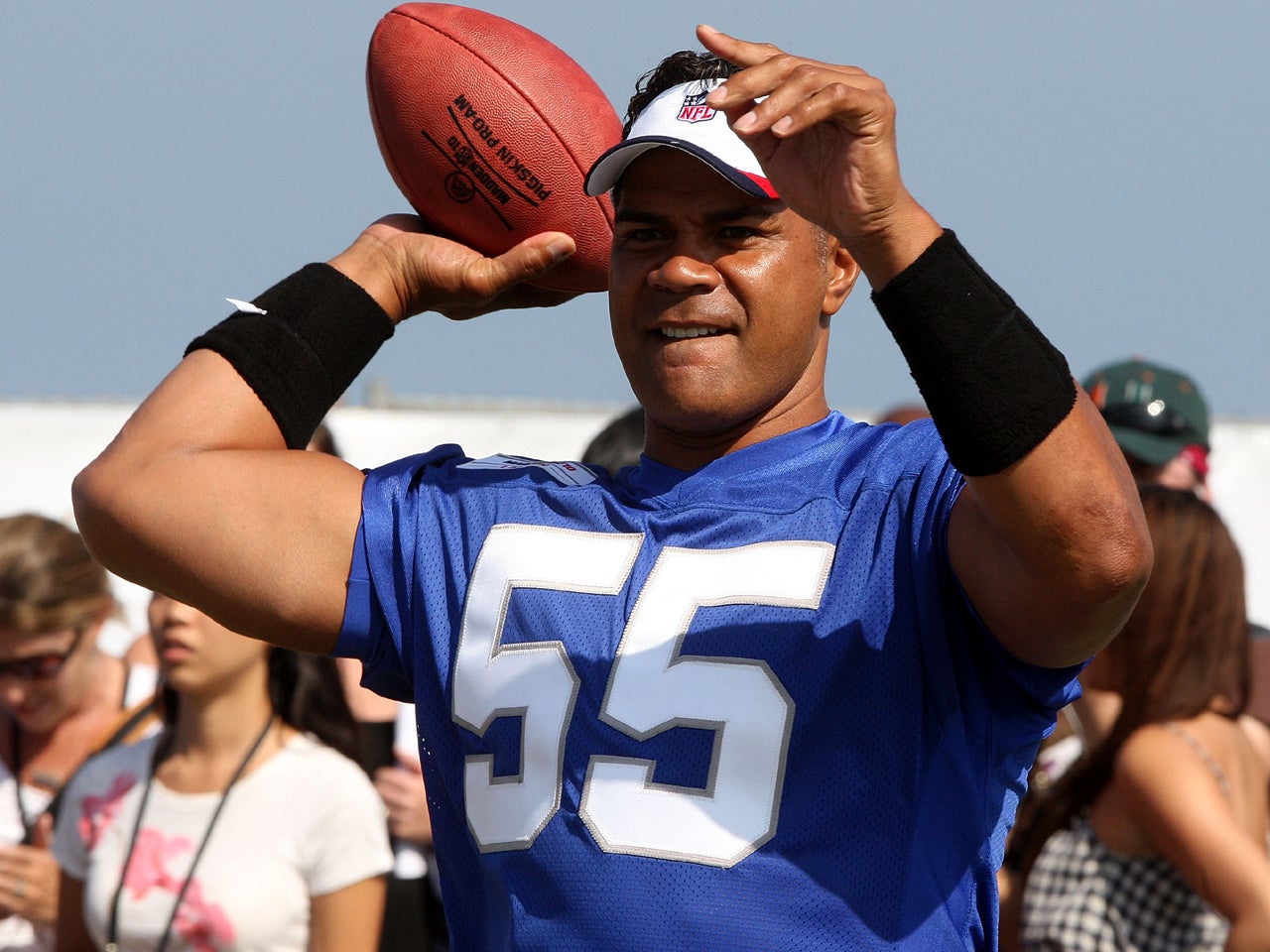 Junior Seau found dead in apparent suicide
(CBS/AP) OCEANSIDE, Calif. - Former NFL star Junior Seau was found shot to death at his home Wednesday morning in what police said appeared to be a suicide. He was 43.
Police Chief Frank McCoy said Seau's girlfriend reported finding him unconscious with a gunshot wound to the chest and lifesaving efforts were unsuccessful. A gun was found near him, McCoy said.
Seau's mother appeared before reporters, weeping uncontrollably.
"I don't understand ... I'm shocked," Luisa Seau cried out.
Her son gave no indication of a problem when she spoke to him by phone earlier this week, she said.
Police chief details Junior Seau suicide investigation
"He's joking to me, he called me a `homegirl,"' she said.
(Watch video of Luisa Seau at left).
Seau was a standout linebacker with the University of Southern California before going to the San Diego Chargers — his hometown team — whom he led to the Super Bowl following the 1994 season.
"Everyone at the Chargers is in complete shock and disbelief right now. We ask everyone to stop what they're doing and send their prayers to Junior and his family," the team said in a statement.
Seau's death follows the suicide last year of former Chicago Bears player Dave Duerson, who also shot himself in the chest.

Seau remained with the Chargers until 2003 and went on to play with the Miami Dolphins and New England Patriots before retiring after the 2009 season.

"Junior was a fierce competitor whose passion and work ethic lifted his teammates to greater heights. His enthusiasm for the game was infectious and he passed that on to everyone who was around him. He loved the game so much, and no one played with more sheer joy," Dolphins CEO Mike Dee said in a statement.

"Junior was one-of-a-kind. The league will never see anyone like him again," Dee said.

The Patriots also issued a statement expressing grief over Seau's death. "This is a sad day for the entire Patriots organization, our coaches and his many Patriots teammates," the statement said.

In October 2010, Seau survived a 100-foot plunge down a seaside cliff in his SUV, hours after he was arrested for investigation of domestic violence at the Oceanside home he shared with his girlfriend. The woman had told authorities that Seau assaulted her during an argument.

There was no evidence of drugs or alcohol involved in the crash and Seau told authorities he fell asleep while driving. He sustained minor injuries.

Seau spent parts of 20 seasons in the NFL, including his 1990-2002 stint with his hometown Chargers. He helped them to their only Super Bowl appearance, was voted to a team-record 12 straight Pro Bowls and was an All-Pro six times.

He amassed 545 tackles, 56 1/2 sacks and 18 interceptions in his career.

"Twenty years, to be part of this kind of fraternity, to be able to go out and play the game that you love, and all the lessons and the friends and acquaintances which you meet along the way, you can't be in a better arena," Seau said last August after the Chargers announced he would be inducted into the team's Hall of Fame.

Seau was the fifth pick overall in the 1990 draft out of Southern California, and stayed with the Charges until being traded to the Dolphins. He came out of retirement a few times to play with the Patriots in search of a Super Bowl ring and was with the team when they lost to the New York Giants in the Super Bowl following the 2007 season, which ended New England's quest for a perfect season.

More than 100 people gathered outside of Seau's home, only hours after he was found dead. Families showed up with flowers and fans wearing Chargers jerseys waited to get more news.

Seau was beloved in San Diego, where he created a foundation and had a popular restaurant that bore his name.

Louie Lieras, 54, of Oceanside was driving through the area when he saw a number of cars parked outside Seau's house. Once Lieras heard the news about Seau's death, he went home and put on an old Chargers jersey with Seau's name on the back.

"I don't know how you could give this up. This was his backyard. He's never going to see it again," said Lieras, gesturing toward the Pacific Ocean just yards from Seau's front door. "I feel for the family and his children."

Seau becomes the eighth member of the AFC champion 1994 Chargers to die at a relatively early age. Tragedy continues to shadow 1994 Chargers Five months after the team lost to the 49ers in Super Bowl XXIX, 28-year-old linebacker David Griggs died in a car crash in Florida. In 1996 running back Rodney Culver, 26, died when a ValuJet flight from Miami to Atlanta crashed into the Florida Everglades. Two years later, linebacker Doug Miller was struck by lightning - twice - in Colorado, killing him at age 28. In 2008, Curtis Whitley, 39, overdosed and defensive lineman Chris Mims, 38, died of a heart attack. Last year, Shawn Lee, a star defender on those '94 AFC champs, died in Raleigh, N.C. of cardiac arrest and linebacker Lew Bush died on December 11, 2011 of a heart attack.
Thanks for reading CBS NEWS.
Create your free account or log in
for more features.