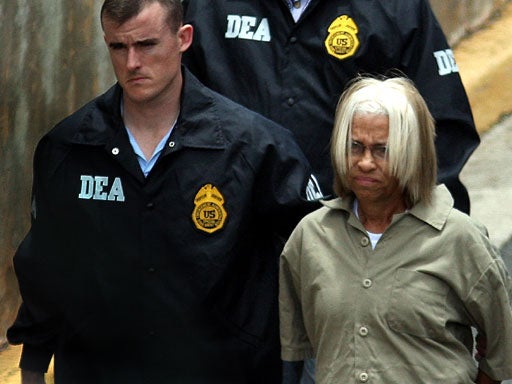 Julianna Farrait, Wife of "American Ganster" Frank Lucus, Nabbed in Coke Bust
SAN JUAN, Puerto Rico (CBS/AP) Julianna Farrait, wife of the infamous Harlem heroin dealer Frank Lucus, was arrested after police say she tried to sell 2 kilograms of cocaine at a hotel in Puerto Rico.
The 70-year-old whose husband inspired the movie "American Gangster" appeared in court Thursday and didn't say anything except requesting the judge to speak in Spanish.
Farrait is charged with conspiracy to violate narcotics law, and has not yet entered a plea.
In a recorded conversation on May 11, Farrait allegedly told an informant she had two kilograms of cocaine in Puerto Rico and that another suspect had an additional eight kilograms for buyers, according to the complaint.
On May 19, Farrait allegedly met with an informant at a hotel room in the Isla Verde and unveiled the drugs. Agents with the Drug Enforcement Administration then entered the room and arrested her, the complaint stated.
Federal agents in New York had been following Farrait since February 2009 with help from an informant, according to the complaint.
Frank Lucus was arrested in 1975 at his N.J. home, where authorities seized more than half a million dollars. He was convicted and sentenced to 40 years in prison, he was then released in 1991. At that time, Farrait served five years in that case.
Farraitt once told a newspaper she was always attracted to danger. She also said she missed taking trips and having diamonds and a Mercedes Benz. "Those who say that money is not important are lying," she was quoted as saying. "People say that money does not buy happiness. It doesn't?"
Lucas was played by actor Denzel Washington in the 2007 film by Ridley Scott. Farrait was played by Puerto Rican actress Lymari Nadal, who is married to actor Edward James Olmos.
Thanks for reading CBS NEWS.
Create your free account or log in
for more features.