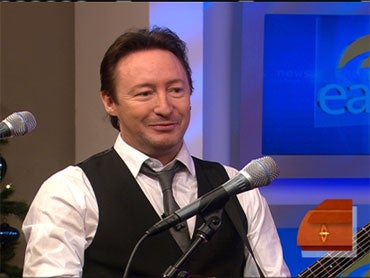 Julian Lennon: I Finally Forgive Dad
It's not easy growing up the son of a legend.
Julian Lennon has not only walked in his father's footsteps, he's forged his own path, as well. It was one that led to an on-again, off-again relationship with John Lennon, one Julian says he's only recently resolved in his own mind.
Born in 1963 to the Beatle great and his first wife, Cynthia Powell, Julian Lennon was exposed to music from the very beginning.
Paul McCartney wrote "Hey Jude" for Julian shortly after his parents' divorce, but the relationship between Julian and his father became strained, and they fell in and out of touch until John's murder in 1980.
Photos: Remembering John Lennon
Photos: Meet the Beatles
Four years later, Julian emerged from the shadow of his father with a debut album, "Valotte," affectionately named after his recording studio chateau in France. It sold 1.5 million copies worldwide.
"I don't regard it as competition in any way -- it's just the love of music," he said at the time.
Julian disappeared from the spotlight and went into filmmaking, but is coming back with his first album in a decade, "Everything Changes."
"Lucy," the first song from his new album, is dedicated to Julian's childhood friend Lucy Vodden, who was the inspiration for the Beatles classic, "Lucy in the Sky with Diamonds."
On "The Dick Cavett Show," John explained that, "My son came home with a drawing, and he showed me this strange-looking woman flying around. I said, 'What is it?" And he said, 'It's Lucy in the sky with diamonds.' And I thought, 'That's beautiful. ' "
Julian reached back out to Lucy later in life, and recently learned of her death from the auto-immune disease lupus. His new song immortalizes his friend, who inspired the classic single.
Proceeds from "Lucy" will go to two lupus charities, St. Thomas' Lupus Trust in Great Britain and the Lupus Foundation of America.
Julian told "Early Show" co-anchor Harry Smith his original drawing depicting Lucy "got lost. So how it was found or who may have taken it, I have no idea, but it's now been re-found and David Gilmour from Pink Floyd has it and kindly allowed us to use a copy of it for the art work" for "Lucy."
"The song ends up being an important bridge, because your relationship with your father had good days and good times and bad times," Smith observed.
"Indeed," Julian agreed.
"And no times at all," Smith added.
"Indeed, yeah," Julian said.
Asked if he feels "like you kind of made some peace here," Julian responded, "It's sort of come full-circle in many respects."
He told CBS News working on "Everything Changes" and on "Luch" helped him come to grips with his relationship with his father and finally find forgiveness.
"With Dad running off and divorcing Mum," Julian said, "I had a lot of bitterness and anger I was living with. In the past, I had said I had forgiven Dad, but it was only words. It wasn't until the passing of my friend Lucy and the writing of this song that really helped me forgive my father.
"I realized if I continued to feel that anger and bitterness towards my dad, I would have a constant cloud hanging over my head my whole life.
"After recording the song "Lucy," almost by nature, it felt right to fulfill the circle, forgive dad, put the pain, anger and bitterness in the past, and focus and appreciate the good things.
"Writing is therapy for me and, for the first time in my life, I'm actually feeling it and believing it. It also has allowed me to actually embrace Dad and the Beatles."
Thanks for reading CBS NEWS.
Create your free account or log in
for more features.