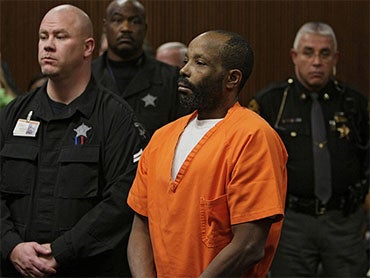 Judge Revealed as Source in Sowell Leak
Laura Strickler is a CBS News producer based in Washington, DC.

In Cleveland last Wednesday morning, a county judge announced she wanted a reporter for the local paper to reveal their source of a psychiatric evaluation of accused serial killer Anthony Sowell. Sowell is awaiting trial on the rape and murder of 11 women.
(Anthony Sowel, left, is arraigned on rape, kidnapping, attempted murder and felonious assault charges, Nov. 13, 2009, in Cleveland. (AP Photo/Mark Duncan)

The judge, Shirley Strickland Saffold, went so far as to issue an arrest warrant for Cleveland Plain Dealer reporter Gabriel Baird.
But within hours, Judge Timothy McGinty, who was recently profiled in a CBS News story about the bungling of the Sowell case, came forward and identified himself as the source of the psychiatric evaluation.
Watch Judge McGinty's Extended Interview
Read the Leaked Psychiatric Evaluation
The evaluation was also obtained by CBS News after it was posted online by a local television reporter. It shows the court psychiatric clinic had estimated that Sowell had only a 6 percent chance of re-offending three months after he was released, in June of 2005.
However, CBS News found that at the time of Sowell's psychiatric evaluation, Sowell had already signed up for an alternative sex Web site almost as soon as he was out of prison. Sowell wrote in that profile, "If your [sic] submissive and like to please, then this master wants to talk to you." Yet Sowell lied to the psychiatrist saying he had never, "used a telephone or computer for sexual purposes."
In the interview Sowell rated "his current level of sexual desire as low" and described his general mood as "good." Surprisingly, despite Sowell's two prior arrests where victims describe being strangled and raped multiple times and one was gagged, bound and kidnapped the evaluator concludes, "The defendant reports having no deviant sexual preferences and there is no documentation of such."
Dr. George Schmedlen, who runs the Cuyahoga County Court Psychiatric Clinic would not tell CBS News which evaluator conducted the interview and whether or not that evaluator was still employed by the Court.
Schmedlen confirmed that as a result of the evaluation and the evidence presented to a judge upon Sowell's release that Sowell was categorized as a "sexually oriented offender" and not a "sexual predator" which would have meant he was subject to more scrutiny by law enforcement.
Thanks for reading CBS NEWS.
Create your free account or log in
for more features.