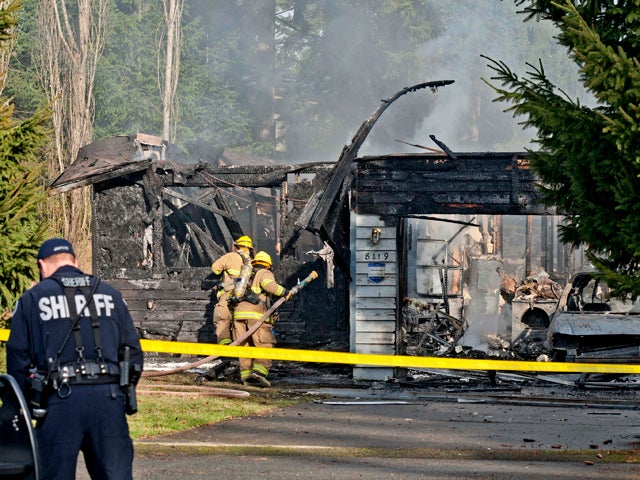 Josh Powell: "I'm sorry, goodbye" note left before killing himself, kids in house blast
(CBS/AP) GRAHAM, Wash. - "I'm sorry, goodbye," is what Josh Powell wrote in a farewell note to his attorney just minutes before police say he set fire to his home Sunday, killing himself and his two young sons.
For the last two years, Powell has been scrutinized in the media, hammered by police and questioned by judges, prosecutors and social workers since the day his wife vanished in 2009.
PICTURES: Missing Utah Mother Susan PowellPICTURES: Missing Utah mom's kids, husband die in alleged murder-suicide
The alleged murder-suicide occurred just days after he was denied custody and ordered to undergo a psycho-sexual evaluation.
The deadly fire at Powell's home brought another twist in the public scandal that began when Susan Powell vanished. The case became a saga of accusations of sex and lies and now the loss of two young boys in caught in the middle.
A social worker brought the two boys to Powell's home Sunday for what was supposed to be a supervised visit. They rushed towards the home, leaving the social worker behind. By the time she got to the door, Powell had locked her out, Graham Fire and Rescue Chief Gary Franz said.
The social worker called her supervisors to report she smelled gas. Moments later, the home burst into flames. The blast was so intense, neighbors said it rattled their houses.
The Pierce County sheriff's spokesman Sgt. Ed Troyer said it seemed some sort of accelerant was used to make the house burn faster. He said that emails Powell sent just before the blaze seemed to confirm Powell planned the fire.
Susan Powell, 28, was reported missing Dec. 7, 2009, after she failed to show up to her work in Utah.
Josh Powell quickly became a person of interest in the case, but he had repeatedly denied any involvement in her disappearance, saying he was out camping with his two sons when she went missing. He was the only "person of interest" in the case.
"I would never even hurt her," a tearful Josh Powell told CBS' The Early Show in August. "People who know me know that I could never hurt Susan," he said.
On Sunday, the attorney for Susan Powell's parents, Chuck and Judy Cox, told the Associated Press the children had started talking to the grandparents about things they remembered from the night their mother disappeared.
"They were beginning to verbalize more," the attorney Steve Downing said. "The oldest boy talked about that they went camping and that Mommy was in the trunk. Mom and Dad got out of the car and Mom disappeared."
In a statement Sunday night from West Valley City police, authorities said the investigation will remain ongoing as they work to find Susan Powell. It said Utah police were headed to Washington state to work with investigators there in the continuing probe.
Kirk Graves, 39, of West Jordan, Utah, whose wife is Josh Powell's sister, said they were stunned by the news.
"We never contemplated the idea he would do something like this. You just don't expect it from a father," he said. "His world was falling apart around him and he was going to lose his boys and get arrested for Susan's disappearance. He's a narcissist and he has no love for anyone but himself."
Complete Coverage of Susan Powell on Crimesider
Thanks for reading CBS NEWS.
Create your free account or log in
for more features.