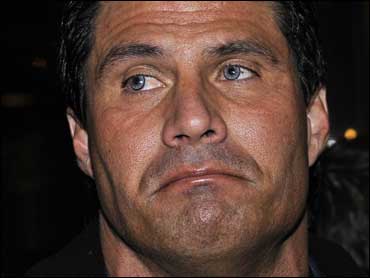 Jose Canseco Sentenced For Drug Smuggling
Jose Canseco went to a Tijuana pharmacy looking for something to boost his testosterone level - low after years of admitted steroid use - and got himself in trouble again.
Limping slightly and saying he's tired, depressed and nearly bankrupt, the former slugger pleaded guilty Tuesday to a misdemeanor offense of trying to bring a fertility drug across the Mexican border. He was sentenced to 12 months' unsupervised probation.
The 44-year-old Canseco apologized to U.S. Magistrate Judge Ruben B. Brooks, saying, "I made an honest mistake."
Brooks wondered aloud whether to make community service and drug testing conditions of Canseco's sentence. The judge decided against those stipulations after attorney Greg Emerson said Canseco is dealing with physical difficulties due to his steroid use and is doing his best to turn around his life.
"It was ignorance on my part, is all it was," Canseco told The Associated Press afterward.
Canseco, who said he also has a bum knee, faced a maximum sentence of one year in prison and a maximum fine of $1,000. The former star was ordered to pay a $25 special assessment.
"I didn't realize you needed a prescription, and obviously I'm paying for it," he said. "I do have a prescription for it now. I wish I would have gotten it sooner. I wouldn't be going through all this."
In his 2005 book "Juiced," Canseco admitted to using steroids and also alleged steroid use by other baseball players, which attracted Congress' attention.
On Tuesday, Canseco said a gel he was using to try to restore his testosterone level wasn't working, so he went to a Tijuana pharmacy seeking something better.
"I didn't go down there looking for steroids," Canseco said while seated on a bench outside the courtroom with his girlfriend, who gave only her first name, Heidi. "I needed something to help me get my own levels back to normal, just to get me to, you know, normal working conditions, I guess.
"Well, when you have no testosterone level, you're depressed, you lose muscle mass, no sex drive, no libido, you have nothing," he added. "You're kind of like tired, depressed all the time. You just don't want to do anything."
The former AL MVP and Rookie of the Year was a six-time All-Star who hit 462 home runs in 17 seasons.
As part of a plea agreement, Canseco admitted he had six vials of human chorionic gonadotropin, which is illegal without a prescription, and 10 syringes when he was detained Oct. 9 at San Diego's San Ysidro border crossing.
The vials were labeled in Spanish, and Canseco did not have a prescription or instructions for the drug's use.
The drug is banned by the World Anti-Doping Agency for use by men.
Emerson told the judge that Canseco did not have health insurance when he went to Mexico. "He's trying to get a job to pay for groceries and gas," the attorney told the court, adding that Canseco is trying to resolve a number of civil judgments.
Canseco, who said he plans to file for bankruptcy soon, again expressed his regrets for naming names in his 2005 book.
"I think when you're kind of blackballed from the baseball world, when you wrote a book against baseball, people really don't want to touch you," he said. "They want to kind of stay away from you, especially any sports-related genre, industry. They don't want to touch you. So that's kind of hurt me."
Thanks for reading CBS NEWS.
Create your free account or log in
for more features.