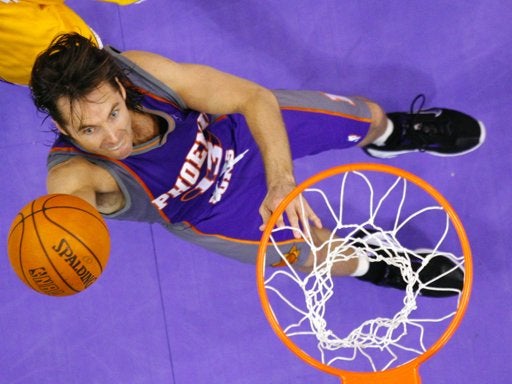 Michael Jordan is through endorsing products.
One of biggest names in advertising says he no longer wants to be a corporate pitchman and has told his sponsors to gradually adopt new campaigns.
"It's a stage you get past," he said in Wednesday's Chicago Sun-Times.
The NBA great, now part owner of the Washington Wizards, has endorsed an array of products: Nike shoes and apparel, MCI telephone service, Hanes underwear and Ballpark Franks.
In 1997, it was estimated he stood to earn $40 million a year in endorsements.
"Now I don't want my name just used," Jordan said. "Endorsements are good for a while they give you a personality, a lot of credibility. And now I have that name. But I want to understand the business itself, see the value in something other than just endorsing."
Jordan also told the Sun-Times he can't palm a basketball because of an injured finger. However, he says the injury was not a factor in his decision to retire in January 1999.
Jordan sliced his right index finger on a cigar cutter after his last season with the Chicago Bulls. He said the cigar cutter was a "cheap" one that cracked as he pushed down on its blade during a trip to the Bahamas.
Jordan went to the emergency room, where he says the doctor snapped the tendon while trying to evaluate the wound. Upon returning to Chicago, Jordan asked former Bulls physician John Hefferon to try to repair the damage.
"When Hefferon did the surgery, he saw all the ligament damage I already had from dislocating my finger so many times," Jordan explained. "So the only thing he could do was reattach the tendon. He said, 'You'll lose some mobility, there is nothing I can do."'
On Tuesday, Jordan had surgery to clean up the old injury. He hopes that will put the problem to rest.
"I can still shoot," Jordan told the Sun-Times. "But I can't grip the ball completely. I have a tough time picking it up off the dribble like I used to."
He said the injury bothers his golf grip and the former minor-league baseball player said he can't hold a bat.
But Jordan swears the injury did not influence his decision to retire after 13 seasons and six championships.
"It didn't affect my retirement issue, although people doubt that," Jordan said. "It was ironic, the timing. But I was going to retire before this happened."
©2000 The Associated Press. All Rights Reserved. This material may not be published, broadcast, rewritten, or redistributed
Thanks for reading CBS NEWS.
Create your free account or log in
for more features.