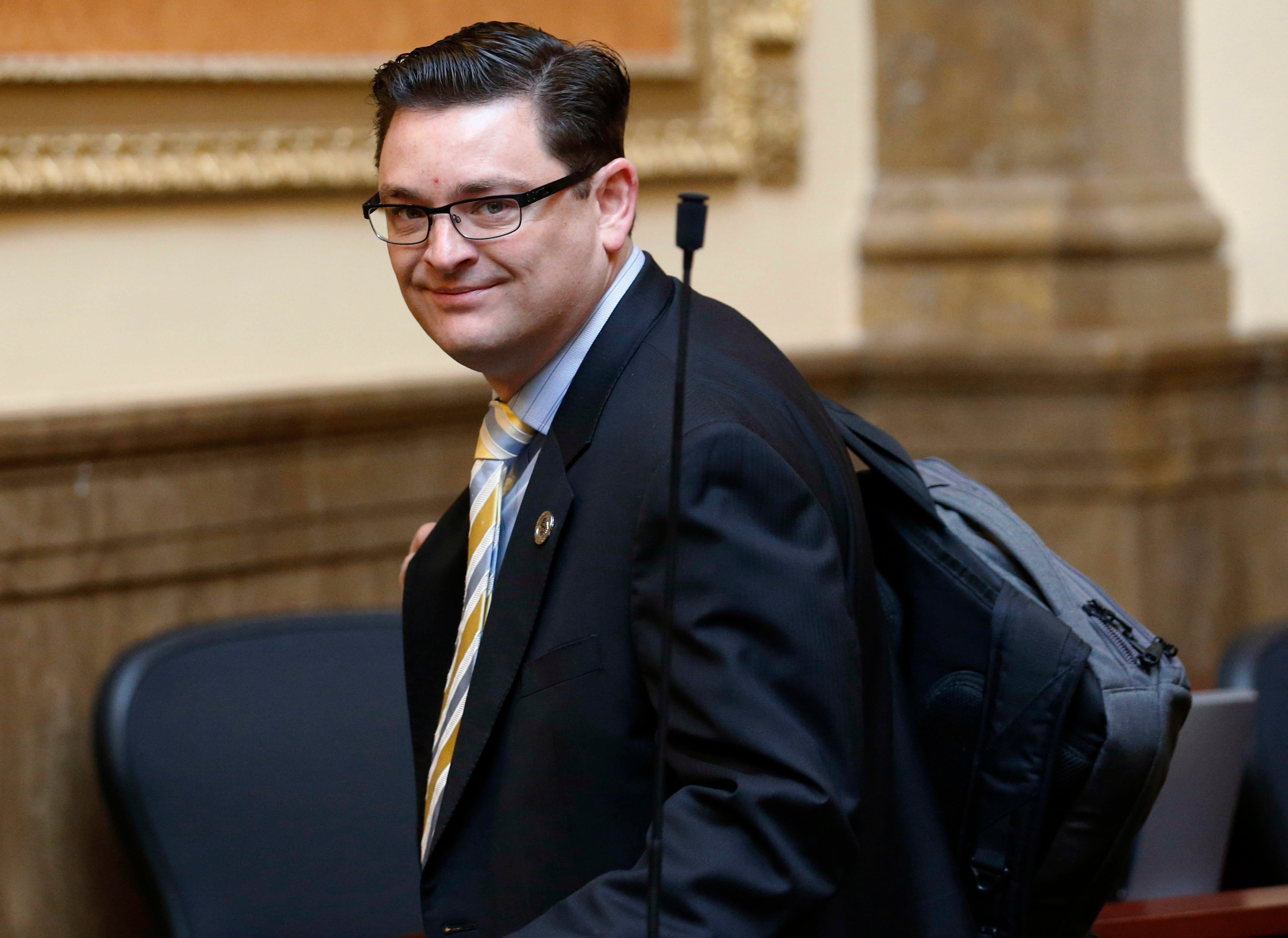 Taxpayers funded hotel tied to prostitute report, records show
SALT LAKE CITY -- Taxpayer funds were used to pay for at least two hotel rooms that a Utah lawmaker who resigned this week is alleged to have used to meet up with a prostitute last year, according to records found by a state House of Representatives official. After the British newspaper the Daily Mail reported allegations Thursday that Republican Rep. Jon Stanard twice hired a prostitute in 2017, House and state elections officials said they were checking to see if taxpayer or campaign money was used for the hotel stays that the report alleges Stanard booked.
House Chief of Staff Greg Hartley told the Associated Press in a text message that Stanard, who resigned Tuesday night, was reimbursed for hotel stays in Salt Lake City in June and August 2017 when Stanard was attending legislative meetings at the state Capitol, four hours from his home in St. George.
The dates and hotel names correspond with text messages reported in the Daily Mail.
"It looks like they were legislative days," Republican House Speaker Greg Hughes told the Associated Press Thursday night.
Hughes said he didn't yet know if the House would ask Stanard to return the hotel reimbursements.
"If there has been an abuse of public funds or if public funds were used in a way that's inappropriate, we would," Hughes said. "I don't have solid answers for those things. I would need to have a way that I would know conclusively that that is the case."
Phone and text messages to Stanard's personal cellphone were not returned, but it indicated he read the texts seeking comment. His lawyer, Wally Bugden, declined to comment and did not respond to a follow-up email asking if he was denying the allegations.
Hughes said he did not yet know what the House would do next to try to determine if the Daily Mail report was correct, and said officials had not had any contact from Stanard Thursday.
It was unclear if the House would be able to check whether Stanard used a state-issued cellphone to text the prostitute and arrange encounters because someone electronically wiped the phone and it no longer contains his text messages.
The House Speaker said he assumed Stanard erased his phone, not House staff, and Hughes said he didn't know if there was a way to recover text messages from the phone.
House officials said they can't launch an ethics investigation because Stanard is no longer a lawmaker.
Stanard, a married Republican from the southern Utah resort community of St. George, resigned after serving five years in the House. He voted last year in favor of a law that made state prostitution laws stricter, including raising the penalty for people who are convicted twice of solicitation.
The House announced his resignation Wednesday for "personal and family concerns" but did not offer details. That day, Stanard the AP in a text message: "My father has terminal cancer and I am going to spend a few weeks with him out of state while I still can."
He did not offer additional information.
The Daily Mail reported that a prostitute, Brie Taylor, said Stanard twice paid her for sex last year during business trips to Salt Lake City and that he arranged the meetings with a number for a state-issued phone listed on his legislative profile.
"I already knew who he was because I screen all my clients using a phone number service and I Googled him," Taylor told the Daily Mail.
The newspaper posted screenshots of messages that Taylor said came from Stanard, but the phone number was blurred out. Taylor did not respond to a text message asking her to confirm the phone number and declined to speak with the AP.
The date and time of the messages indicate Stanard would have been texting her to arrange meetings on days the Legislature was in session in March and when lawmakers were in meetings at the Capitol in summer and fall.
Stanard's 2017 campaign finance report shows he submitted an expense on March 10 for $1,510 for "extra hotel expense session lodging" at the "Marriott Residence."
Text messages in the Daily Mail story indicate Stanard was arranging for a visit with Taylor at the Marriott Residence Inn on March 8.
Utah Director of Elections Justin Lee said state law bars any personal use of campaign funds and elections officials were looking over Stanard's reports.
Hughes said that when Stanard met with him Tuesday night to tell him he was resigning, "there were issues that were weighing on him. What exactly and to the nature, I wasn't aware. But it was clear that his priority was with his family and was not here."
He would not say if Stanard spoke about allegations he paid a prostitute for sex, saying it was a personal conversation between colleagues but "it ran the gamut of problems," and "I did not know there was a story coming, I'll just say that."
"I was absolutely shocked. I had never heard anything, there was nothing in my interaction — I sit next to him on the House floor — nothing in my interaction that's ever suggesting anything even remotely close to what we're seeing today," GOP Rep. Mike McKell said.
Salt Lake City police say they have no record related to solicitation allegations against Stanard. Unified Police Department of Salt Lake County said it had no record of contact with him.
Thanks for reading CBS NEWS.
Create your free account or log in
for more features.