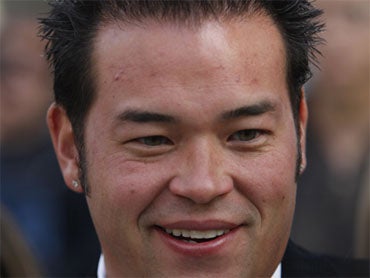 Jon Gosselin, TLC Settle Suit
TLC has settled a breach of contract lawsuit against reality TV star Jon Gosselin, the network said Wednesday.
TLC sued Gosselin in October, claiming he failed to meet his obligations as an exclusive employee of the network while appearing on rival networks' programs for pay and making unauthorized public disclosures about the show.
Gosselin filed a countersuit, claiming TLC violated Pennsylvania's child labor laws in filming "Jon & Kate Plus 8." The show followed Gosselin, his wife, Kate, and their eight children - twins and sextuplets - at their home in Wernersville, Pa. They became tabloid fixtures when their marriage dissolved, and the show ended last year.
TLC spokeswoman Laurie Goldberg said Wednesday that all terms of the settlement are confidential and the network will take steps to conclude litigation.
The original suit was filed in Montgomery County, Md., in October. It sought unspecified compensatory damages and demanded Gosselin return income gained as a result of his alleged breaches of the agreement and refrain from future violations. In the countersuit, Gosselin sought more than $5 million in damages.
Mark Jay Heller, Gosselin's attorney, said the settlement was filed Wednesday and Gosselin did not appear in court. He said Gosselin is hopeful that the network will move forward with the "best interests" of the family.
"Jon has expressed his desire to close the litigation chapter of 'Jon & Kate Plus 8,' he said. "Sometimes litigants that kiss and make up find their relationship is much better the second time around. As Jon's attorney, I truly hope this new adventure for TLC and the Gosselins is a much more joyful journey."
Heller did not disclose details of the agreement and would not say whether Gosselin would be allowed to appear again on the network. Asked whether the countersuit is still ongoing, he said: "All litigation has come to an end."
Goldberg, the TLC spokeswoman, said the whole Gosselin family remains under contract with the network.
"We have announced that we're working on a show with Kate," she said. "That's all that's in the works at this time."
TLC is owned by Silver Spring, Md.-based Discovery Communications.
Thanks for reading CBS NEWS.
Create your free account or log in
for more features.