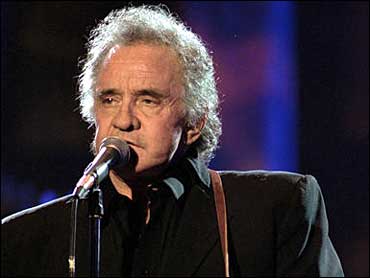 Johnny Cash: The Man In Black
American music lost a legendary voice Friday morning. Country music star Johnny Cash died in Nashville.
His death comes just four months after he lost his wife and musical collaborator June Carter Cash, whom he credited with saving his career and his life.
Harry Reasoner introduced us to Johnny Cash 21 years ago. By then, the Man in Black had already been an established star for decades and led a life that gave him plenty to sing about and plenty to say.
---
Johnny Cash once wrote: "Sometimes when I'm on stage now, right in the middle of a song, my mind will flash back eight or 10 years to other times when I sang the same song - but with a frenzy, frightened because I knew my audience could tell I wasn't right."

At that time, Cash says he was trying to describe how he felt just trying to stay alive when he was strung out on amphetamines and barbituates.

"It's a vicious cycle," he says. "I wanted to get just about that high off the ground before I'd go onstage. Sometimes, I'd misjudge how high I was, you know, and I'd get onstage and I was a wreck."

In fact, the Grand Ole Opry once banned Cash from performing.

"I don't know how bad they wanted me in the first place, but the night I broke all the lights on the stage with the microphone stand, they said they couldn't use me anymore," recalls Cash. "So I left and used that as an excuse to really get wild and wound up in the hospital with my third time I broke my nose."

He says the absolute lowest point happened in 1967, when he was in his jeep, near Chattanooga, Tenn. "I decided that I could never face anybody again. I had gone back on my word with everybody," he says. "So many times I'd hurt them and lied to them that I thought I'd just crawl off in a cave and die."
---
But if any one person can be credited with turning Cash's life around, it's June Carter Cash.

She started performing with her mother, Maybelle Carter, and her sisters when she was a kid. When they met, Cash was a big star and June was on her way as a Grand Ole Opry regular.

When Cash asked June to join his tour, she says she entered a nightmare in progress: "I became a thief, I stole pills, I stole hotel keys. I did everything that I could and I did things that I would have never done ordinarily. But I think I did it only because I didn't know what else to do ... I thought he would die."

When Elvis Presley died, the nation was stunned and shocked to learn the tragic details - the cycle of pills that ate away at his life. Cash and Presley started out together, young men who walked in off the street to the same recording studio in Memphis back in the '50s.

"There are so many that started back in the mid '50s that are gone now, but there but for the grace of God goes me," says Cash. "There were people that had been supplying me that didn't want to see me straighten up. They had written me off. I mean, some prominent people in the music industry that wanted me to go down with them. But my friends and loved ones kept them away."

Did pills make Cash a better singer? "I thought I was invincible. I thought I was indestructible," he says. "I feel a lot better now. I feel a lot better about my performing, the whole thing. I'm 50 years old and I feel like life has really just begun for me."

Cash once said that Elvis had no one but bodyguards around him. But Johnny has June, and together they have a son, John Carter Cash.
---
The one-night stand is still the country singer's bread and butter. You can't really afford to stop. The fans who buy the records and watch the TV shows expect it. The musicians and the technicians who travel with him expect it. But it does have its rewards - a minimum of $35,000 a night.

Cash earns about $5 million a year, but it can be tedious. He says he does about 110 concerts, which puts him on the road about 200 days a year. "Maybe that's what keeps me going," he says.

Credit Cash's talent as a performer for a popular myth that has grown around him, something dark and awful in his past that inspires him to sing so convincingly about being "stuck in Folsom Prison."

He was in there to do an album, but he admits that he never served time in prison: "I've never been convicted of a felony. I did gain a certain notoriety back in the early '60s, for about seven years actually, when I'd find myself in a county or city jail."

The picture you get of Cash from his music is that of a man alone, the tall man in black with a guitar. But nothing could be further from the truth. Not only does Cash have plenty of company, he is a company.

It's Cashville in every sense of the word. And it's a nice little family business. Pay your money and take your choice: a T-shirt, an autographed book, Mama Cash's Down Home Cookbook. Take your picture in front of a picture or in front of the real thing. And for $2.50, brother Roy Cash will usher you into the Johnny Cash Museum to see the gold records and memorabilia that goes back to when Johnny was a boy in Dyess, Ark.

"If there's something they really want to see, they'll save their money for it," says Cash.

Upstairs, sister Reba runs Johnny's business affairs, which include banking, a piece of a truck distributorship and a good deal of undeveloped land.
---
The Johnny Cash we met is a shy, gentle man. And with an armed security force, an elaborate system of fences and gates, he has managed to create an oasis of privacy for himself and his family - in the country music fishbowl that Nashville has become.

He lives on his own 50-acre wildlife preserve. And in a land where guitar-shaped swimming pools are the norm, the Cash's lavish style borrows more from European royalty than country chic.

When 60 Minutes visited June, her sister and one of her daughters from a previous marriage were preparing for a tag sale - to unload some of the crystal she had no room for. Not bad for the son of an Arkansas cotton farmer.

Of the songs he's written, which is his favorite?

"I think I probably should say, 'I Walk The Line,' because it was my biggest seller," says Cash. "But the one that really means more to me that says it more for me in my life, I think, is 'Pickin' Time.' The message of the song is good times is coming for us all. 'Pickin' Time.'"

He wrote the song that sums up his life, "I Walk The Line," in 20 minutes back in 1956. It made him a star and remains his best-selling record.

Some of his songs are inspirational. They reflect kind of a spiritual life. And some of them, like "Folsom Blues," are pretty low down and dirty.

Does he have any trouble reconciling the two kinds?

"No. Roy Orbison had a line in a song called 'My Best Friend.' It was a line that says, 'A diamond is a diamond and a stone is a stone. But man is part good and part bad.' You know, I recognize the fact that I'm part good and part bad," says Cash.

In spite of years of poor health, Johnny Cash, 71, continued to create his music, and new generations of audiences continued to listen. This year, his recording of "Give My Love To Rose" won best Country Male Vocal Performance at the Grammy Awards. And his version of "Hurt," the Nine Inch Nails' hit, earned seven nominations at last month's MTV awards.
Thanks for reading CBS NEWS.
Create your free account or log in
for more features.