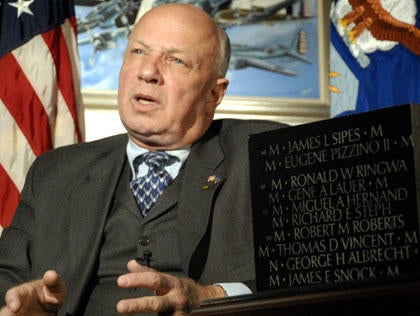 John Wheeler III Update: Former US Official Died of "Blunt Force Trauma," Say Medical Examiners
(CBS/AP) Nearly a month after the body of federal defense consultant, John Wheeler III, was found in a Delaware landfill, the state medical examiner's office released his cause of death Friday, claiming he was assaulted and died of blunt force trauma.
Officials determined several weeks ago that Wheeler was a homicide victim after his body was found the morning of Dec. 31 at the Cherry Island Landfill in Wilmington, Del., but refused to disclose any further details.
Hal Brown, deputy director of the medical examiner's office, said blunt force trauma involves "nonpenetrating" injuries such as concussions, contusions, lacerations, broken bones and abrasions, which are distinguished from penetrating wounds inflicted by stabbing or shooting.
Authorities have been tight-lipped regarding Wheeler's investigation and still refused to release toxicology results Friday.
Wheeler, 66, was seen on video surveillance cameras wandering around downtown Wilmington in a disoriented manner two days before his body was found.
Authorities are still trying to determine how the ex-Pentagon official got to Newark, Del., several miles from both is home in New Castle and from downtown Wilmington. According to police, the garbage truck that dumped Wheeler's body collected all of its trash from commercial disposal bins in Newark.
Lt. Mark Farrall, a spokesman for Newark police, who are leading the investigation, told The Associated Press that he was unaware that the medical examiner's office had released Wheeler's cause of death, and said he could not provide any details on the case.
"We're still looking for anybody who might have information as to who may have been involved in the case," Farrall said. "...No suspects have been identified at this time."
Despite the release of Wheeler's death, Jason Miller, a spokesman for Attorney General Beau Biden, said the Department of Justice would not provide any information on how Wheeler was assaulted, what injuries he suffered or what the results of the toxicology tests were.
Biden's office filed a court motion to seal a search warrant for Wheeler's home, even though police had not initially requested that it be sealed.
Three search warrants for Wheeler's cell phone and his 1993 Oldsmobile were also sealed at the request of Newark police.
Colm F. Connolly, an attorney for John Wheeler III's family, told The News Journal of Wilmington that they are desperate for more information and have offered a $25,000 reward for details leading to an arrest in the case.
Thanks for reading CBS NEWS.
Create your free account or log in
for more features.