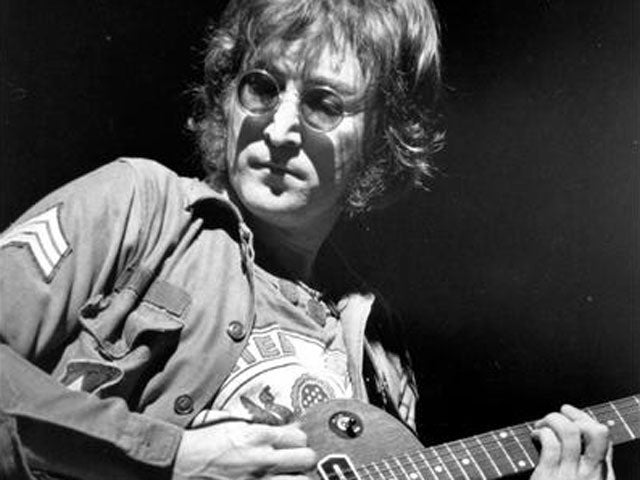 John Lennon was a secret Republican, former assistant says
(CBS) John Lennon: Musician, advocate...closet Republican?
The singer's former assistant claims in a new documentary that Lennon was a Ronald Reagan fan and a conservative at the time of his death.
Pictures: John Lennon
Pictures: Beatles through the years
The Toronto Sun reports that Fred Seaman, Lennon's assistant from 1979 until his death in 1980, made the revelations in the documentary "Beatles Stories."
"John, basically, made it very clear that if he were an American he would vote for Reagan because he was really sour on Jimmy Carter," Seaman reportedly told filmmaker Seth Swirsky.
"He'd met Reagan back, I think, in the '70s at some sporting event... Reagan was the guy who had ordered the National Guard, I believe, to go after the young (peace) demonstrators in Berkeley, so I think that John maybe forgot about that... He did express support for Reagan, which shocked me," he continued.
According to the Toronto Sun, Seaman added that Lennon was embarrassed by his earlier radicalism.
"I also saw John embark in some really brutal arguments with my uncle, who's an old-time communist... He enjoyed really provoking my uncle... Maybe he was being provocative... but it was pretty obvious to me he had moved away from his earlier radicalism," Seaman reportedly said. "He was a very different person back in 1979 and '80 than he'd been when he wrote 'Imagine.' By 1979 he looked back on that guy and was embarrassed by that guy's naivete."
But, as The Nation points out on its website, Seaman might not be the most reliable source.
"A guy named Fred Seaman is all over the conservative blogs today for a new documentary in which he claims that John Lennon was 'a closet Republican' at the time he was shot. This seems unlikely," contributor Jon Wiener wrote. "First of all, who is Fred Seaman? He'd been a personal assistant to John and Yoko at the Dakota in the late seventies, but he's also a convicted criminal. He was found guilty of stealing John Lennon's personal belongings, including his diaries, after Lennon had been killed. He was sentenced to five years probation. You might say that weakens his credibility."
Swirsky's film "Beatles Stories" also features interviews with Brian Wilson, Art Garfunkel and Smokey Robison speaking about the legendary rock group, according to Spinner. You can watch the trailer here.
Tell us: Do you think John Lennon was a "closet Republican"?
Thanks for reading CBS NEWS.
Create your free account or log in
for more features.