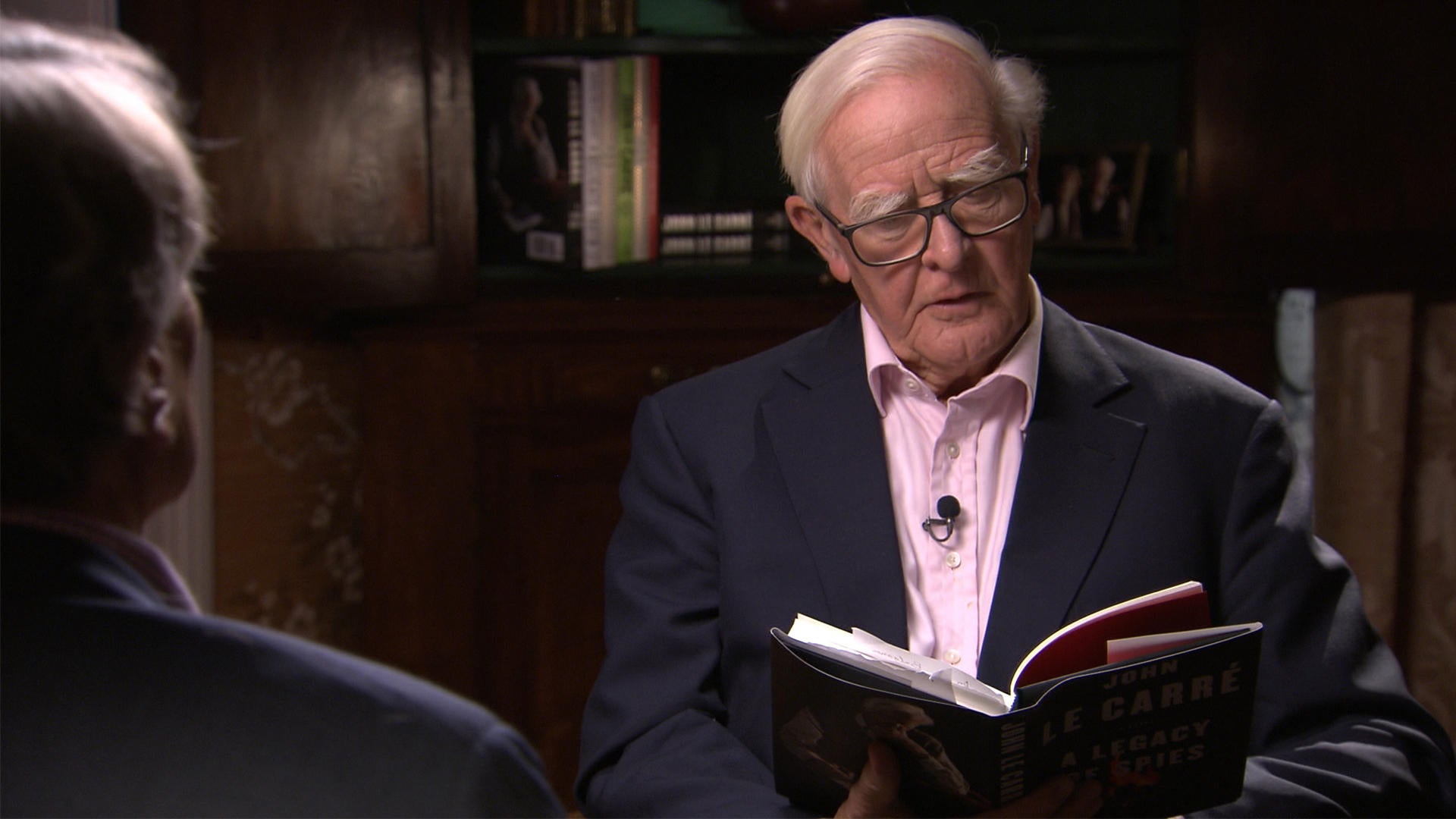 Famed spy novelist reads to 60 Minutes
George Smiley is back. More than 25 years since his last appearance in a John le Carré novel, the anti-James Bond returns in le Carré's newest hardcover, "A Legacy of Spies."
But to his creator, Smiley never went away.
"In the first place, the characters never left me," author David Cornwell—better known by his nom de plume, John le Carré—tells 60 Minutes this week. "In some curious way, particularly Smiley, they became—even if I wasn't writing about them—they became quite conscious companions at times in my imaginations."
Correspondent Steve Kroft interviewed Cornwell about his life and his work, including some of his most famous novels like "The Spy Who Came in from the Cold" and "Tinker Tailor Soldier Spy."
While the 60 Minutes team was visiting Cornwell at his home in South West England, producers asked the author to read on camera from several of his works, including his latest. 60 Minutes producer Michael Gavshon says hearing Cornwell read his own words was moving.
"He's a wonderful performer and a great narrator," Gavshon says, "and his words—not that they need help by being read aloud—but obviously came alive in a way I'd never experienced before."
In the clip above, Cornwell reads a key passage from "A Legacy of Spies," in which George Smiley's "loyal lieutenant" Peter Guillam returns from his post-Cold-War hiatus and the two characters meet again. Guillam narrates.
In "A Legacy of Spies," Guillam is called out of retirement and summoned back to London, where a gleaming new building has replaced the "Circus" he once knew. In the clip above, Cornwell reads a passage from one of the book's early chapters, in which Guillam waxes nostalgic about his old headquarters.
One of Cornwell's most famous books is his 1963 novel "The Spy Who Came in from the Cold," which was made into a motion picture starring Richard Burton and Claire Bloom. The book spent 34 weeks as a No. 1 bestseller, and Publishers Weekly has called it "the best spy novel of all time."
In his 60 Minutes interview with Kroft, Cornwell recalls writing the book, saying, "My memory is that I wrote it very fast, the story. But I had no idea where I was going at first. And it just flowed. And I think you get a break like that once in your writing life, I really believe. Nothing else came to me so naturally, so fast."
In the clip above, Cornwell reads a passage from the novel, in which washed-up spy Alec Leamas erupts with anger. He's talking with his girlfriend, Liz Gold, as they escape from East German captivity.
George Smiley is not only Cornwell's most famous character, he's also the character that has been with Cornwell the longest. The author wrote about Smiley from page one of the first novel he ever wrote.
In the clip above, Cornwell reads his first description of his favorite squat-framed spy.
Cornwell was deliberate when he named his 2016 memoir "The Pigeon Tunnel: Stories from My Life." As he explains in the clip above, nearly every one of his books used "The Pigeon Tunnel" as a working title, recalling a haunting image from his youth.
The videos above were originally published on September 17, 2017 and produced by Lisa Orlando and Ann Silvio. They were edited by Lisa Orlando.
Video of John le Carré reading from his autobiography "The Pigeon Tunnel: Stories From My Life" courtesy of The Ink Factory.
Thanks for reading CBS NEWS.
Create your free account or log in
for more features.