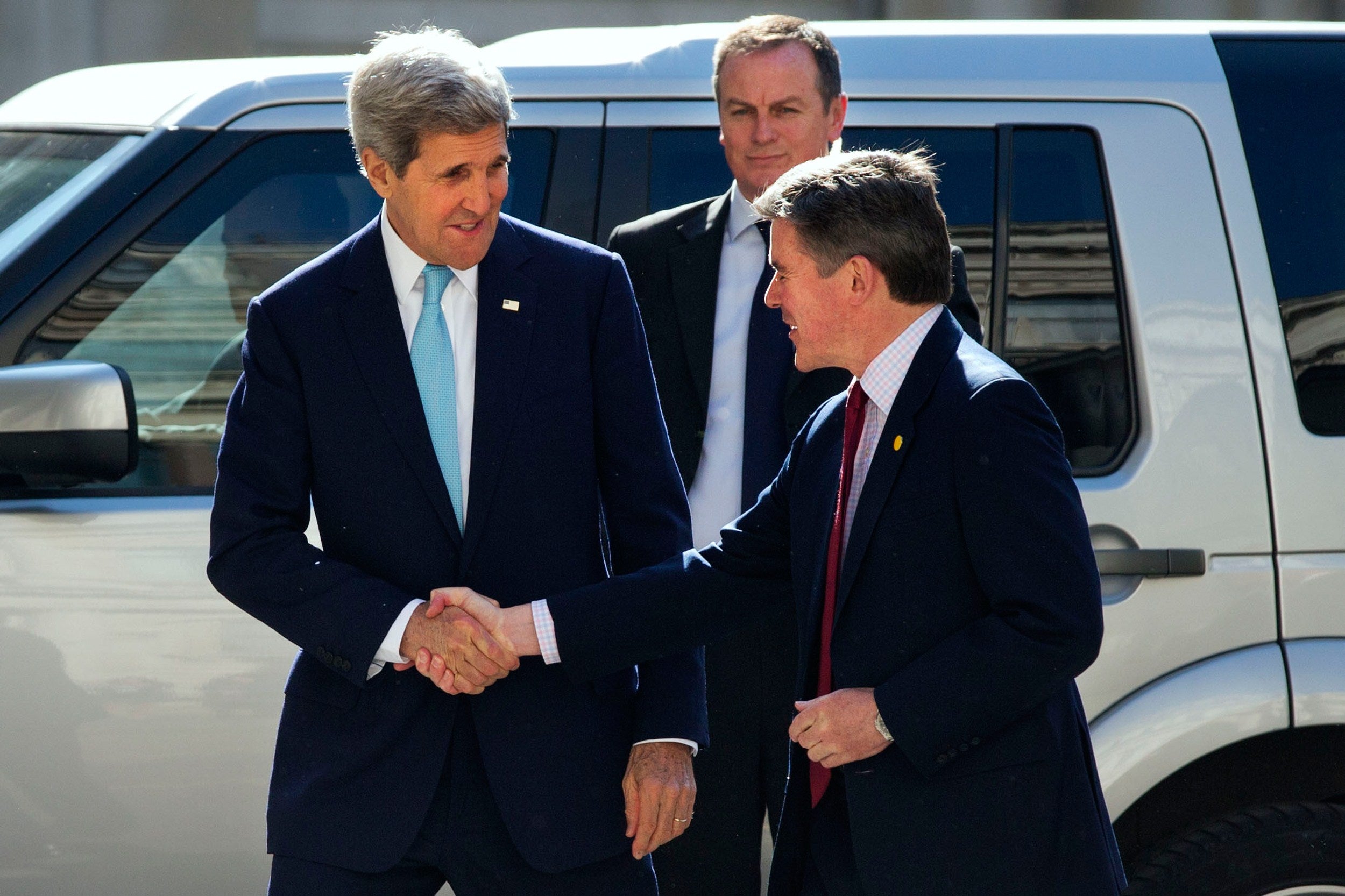 John Kerry: Syrian president election a "farce"
LONDON -- Syria's planned presidential election next month is a "farce," and the U.S. and its partners are prepared to quickly redouble efforts to support opposition forces in the county, Secretary of State John Kerry said Thursday.
Kerry stopped short of promising U.S. military aid that the opposition has repeatedly requested but said he and his counterparts from 10 other nations remain committed to "changing the dynamics on the ground in Syria." He would not comment specifically on weapons any country may or may not be providing to the rebels fighting Assad's forces, who have seized the momentum of the country's civil war, now in its fourth year.
"Our teams are going to come together in very short order now to lay out a specific set of steps that we can and will take together in order to have a greater impact," Kerry said after meeting with other foreign ministers at a "Friends of Syria" meeting of 11 Western and Arab countries.
"I'm not going to discuss specific weapon systems or otherwise, except to say that every possible avenue that is available is going to be pursued by one country or another," Kerry said.
The meeting comes amid grim conditions in Syria and the resignation of Lakhdar Brahimi as the joint United Nations-Arab League envoy for Syria. Brahimi, an 80-year-old Algerian diplomat, tried unsuccessfully for nearly two years to mediate an end to Syria's 3-year-old civil war.
"Assad's just protecting himself," Kerry said. "He is making partnership with terrorist elements, attracting terrorists, engaging in terrorist activities against his own people. And I don't think that anybody today felt deterred one iota in the notion that there might be a better route - another route other than a political settlement, which can only be brought about when he is prepared to negotiate."
Syria's conflict began with largely peaceful protests calling for reforms but transformed into an armed uprising and eventually a civil war following a ferocious military crackdown on protesters. More than 150,000 people have died since March 2011, and hundreds of thousands of people have been wounded and displaced by the war.
On Thursday, a massive car bomb ripped through a crowded garage near a rebel-held border crossing between Syria and Turkey, killing at least 43 people in an area that has seen fierce fighting between rival rebel groups, an anti-government activist group said.
Before resigning, Brahimi criticized Assad's intention to hold presidential elections amid the war, saying it would hamper prospects for a political solution that the country so urgently needs. His comments angered the Syrian government, which intends to hold a vote on June 3.
"Together, we are unified in saying that Assad's staged elections are a farce," Kerry said. "They're an insult. They are a fraud on democracy, on the Syrian people and on the world."
British Foreign Secretary William Hague said the nations supporting the Syrian opposition are reassessing their strategy based on a worsening situation in Syria and that they have to step up their efforts to ensure that a moderate opposition survives.
"We see ourselves as acting in order to make that possible and in order to make it even clearer to the regime that there is no military victory available to them. ... It is not possible for them (Assad's forces) to conquer the whole of the people of Syria militarily," Hague said.
Hague also announced that Britain would provide an additional $50 million in support to the opposition, support a U.N. resolution referring Assad's government to the International Criminal Court and upgrade the Syrian opposition's representative office in London to a mission.
Asked about French allegations that Assad has attacked his own people with chemical weapons at least 14 times since last October, Kerry said he has seen raw data that suggests that chlorine was used, but that it has not been verified.
"And if it has, and if it could be proven, then that would be against the agreements of the chemical weapons treaty and against the weapons convention that Syria has signed up to," Kerry said.
Thanks for reading CBS NEWS.
Create your free account or log in
for more features.