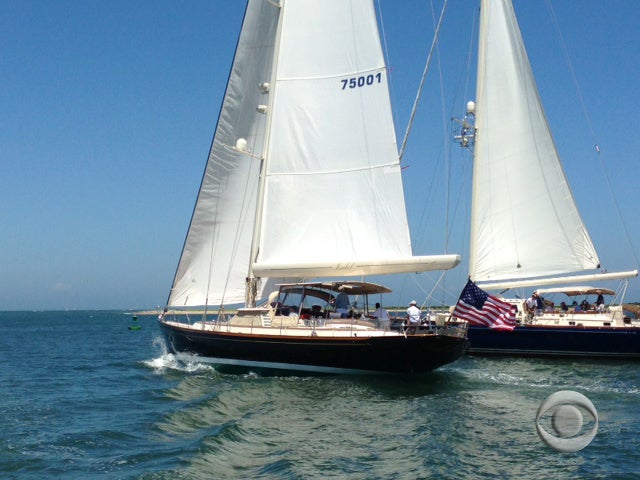 John Kerry on his boat during Egypt upheaval, State Dept. concedes
As regime change was unfolding in Egypt, Secretary of State John Kerry spent time on his boat Wednesday afternoon in Nantucket Sound, the State Department acknowledged to CBS News on Friday, after repeatedly denying that Kerry was aboard any boat.
"While he was briefly on his boat on Wednesday, Secretary Kerry worked around the clock all day including participating in the President's meeting with his national security council," said State Department spokeswoman Jen Psaki, naming a series of Egyptian and international officials Kerry had spoken with on Wednesday.
Psaki's acknowledgment marked a stark reversal from previous denials that Kerry was on any boat whatsoever.
A "CBS This Morning" producer spotted Kerry on his boat Wednesday afternoon on Nantucket, where Kerry has a vacation home. When "CBS This Morning" senior producer Mosheh Oinounou tweeted about the sighting, Psaki issued a denial, calling the tweet "completely inaccurate" and said Kerry has been "working all day and on the phone dealing with the crisis in Egypt."
Also on Wednesday afternoon, the White House released a photo of the president and his national security team meeting in the situation Room. Kerry was not present in the photo, but his office said he did participate in the meeting via a secure phone line.
On Thursday night, CBS News obtained a photo of Kerry on his boat and sent it to the State Department, asking whether they still stand by their denial that Kerry was on a boat.
The response: "Yes."
The shifting responses from the State Department come in the midst of a dramatic week on the global stage. On Wednesday, after days of massive street demonstrations in Cairo and other Egyptian cities, the Egyptian military removed the Muslim Brotherhood-backed President Mohammed Morsi from power and installed a provisional government.
Kerry's office has stressed how involved Kerry has been throughout the crisis in Egypt and other flashpoints in the region. He recently returned from a two week trip through the Middle East and Asia, seeking a resolution to the civil war in Syria and a rekindling of Israeli-Palestinian peace negotiations.
The about-face on is not the first time Kerry's aquatic recreation in Nantucket has created a stir: In 2004, footage of Kerry windsurfing there was used in an ad painting the then-Democratic nominee for president as a flip-flopper.
Thanks for reading CBS NEWS.
Create your free account or log in
for more features.