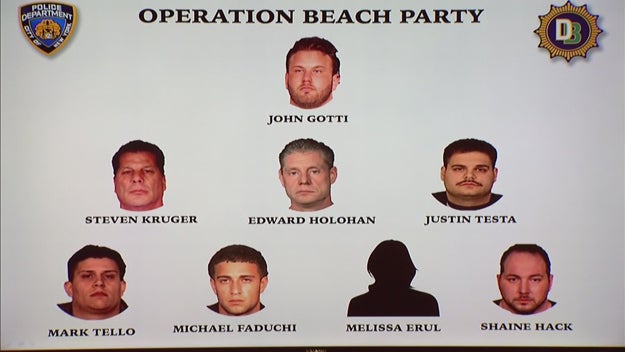 John Gotti, grandson of mob boss, arrested in drug bust
NEW YORK -- A grandson and namesake of the notorious mobster John Gotti has been arrested in New York City in connection with an alleged drug distribution ring.
Police say 500 oxycodone pills were recovered Thursday at the Queens home where the late mobster once lived.
John Gotti the grandson, 23, was arrested, along with his girlfriend.
Queens District Attorney Richard A. Brown says the search was part of a probe that has led to seven arrests and the seizure of $40,000 in cash. Chief of Detectives Robert Boyce referred to the take-down as "Operation Beach Party" at a NYPD news presser Thursday, reports CBS New York.
The suspects allegedly sold Oxycontin and other prescription pills in the Queens neighborhoods of Howard Beach and Ozone Park, nearby New York City's coastline, according to the station.
Attorney Gerard Marrone says Gotti denies the allegations. He says police "broke in doors" and "wrecked the house" because of Gotti's "last name."
He says Gotti's father, Peter, who also lives there, is law-abiding and owns a bread route. He says Peter Gotti was in Ohio, where he's involved in a John Travolta movie.
Found guilty of racketeering and murder in 1992, CBS New York reports notorious mob boss John Gotti, nicknamed "Teflon Don," was sentenced to life in prison without the possibility of parole. He died in a prison hospital at the age of 61 in 2002.
John Gotti the grandson had a prior arrest in June after a traffic stop allegedly led to the discovery of a Gucci bag containing Oxycontin pills, a bottle of steroids and Xanax pills, and $56,000 in cash, the station reports.
In an unrelated takedown, 46 alleged mobsters were charged federally in New York Friday, accused of involvement in a massive East Coast crime syndicate.
Thanks for reading CBS NEWS.
Create your free account or log in
for more features.