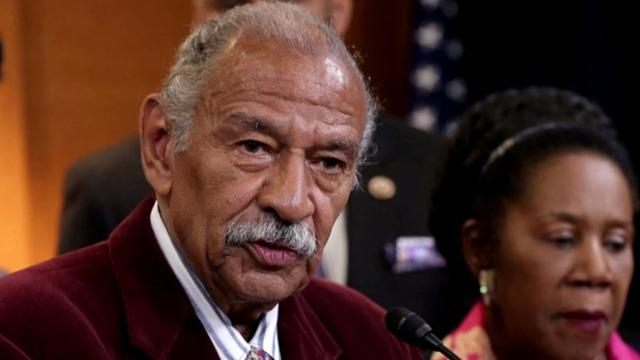 John Conyers' lawyer says he "is not going to be pressured" by Nancy Pelosi
The attorney for Rep. John Conyers said the congressman "is not going to be pressured" by anyone, including House Minority Leader Nancy Pelosi, to step down, after multiple women have accused the congressman of sexually harassing them.
Conyers is currently in a Detroit hospital, due to a stress-related illness.
"Nancy Pelosi did not elect the congressman, and she sure as hell won't be the one to tell the congressman to leave," Conyers lawyer Arnold Reed told reporters in a press conference in Detroit Thursday.
"He is not going to be pressured by Nancy Pelosi or anyone else to step down," Reed said.
Reed said the decision is Conyers' and Conyers' alone, and health will be the only factor that determines whether he continues to serve.
Moments before the press conference was announced publicly, House Minority Leader Nancy Pelosi, D-California, urged Conyers to resign, following several of her Democratic colleagues. Speaker of the House Paul Ryan, R-Wisconsin, also called on Conyers to leave Congress on Thursday. The 88-year-old Conyers is accused of harassing multiple women through the years, and attempting to hide the accusations.
"Well, the allegations against Congressman Conyers, as we have learned more since Sunday, are serious, disappointing and very credible. It's very sad," Pelosi said. "The brave women who have come forward are owed justice. I pray for Congressman Conyers and his family and wish them well. However, Congressman Conyers should resign."
Days earlier, Pelosi had called Conyers an "icon" and said she didn't know his accusers on NBC's "Meet the Press."
Democratic Caucus Chair Joe Crowley of New York also called on him to resign.
"Yesterday, I said Congressman Conyers should do the right thing for the country, the institution, and, most importantly, the woman involved. The right thing is for Congressman Conyers to resign," he said.
Reed also said comparisons between the Conyers situation and Matt Lauer -- the NBC anchor fired for multiple sexual misconduct allegations -- said the two situations are "apples and oranges" because the private sector has no "due process."
Last week, Buzzfeed first reported about a settlement Conyers made with a former staffer who accused him of sexual misconduct. Conyers eventually acknowledged the settlement, but denied wrongdoing. Another former staff member accused Conyers of sexual misconduct and filed a lawsuit, but dropped the suit when the court refused to seal the case. One accuser, Marion Brown, appeared on NBC's "Today" show to claim Conyers "asked me to sexually satisfy him" in 2015.
Conyers returned to Detroit earlier this week, facing mounting allegations. On Wednesday, Conyers' lawyer told the Associated Press he has no plans to resign. He did step down as ranking member of the House Judiciary Committee.
Thanks for reading CBS NEWS.
Create your free account or log in
for more features.