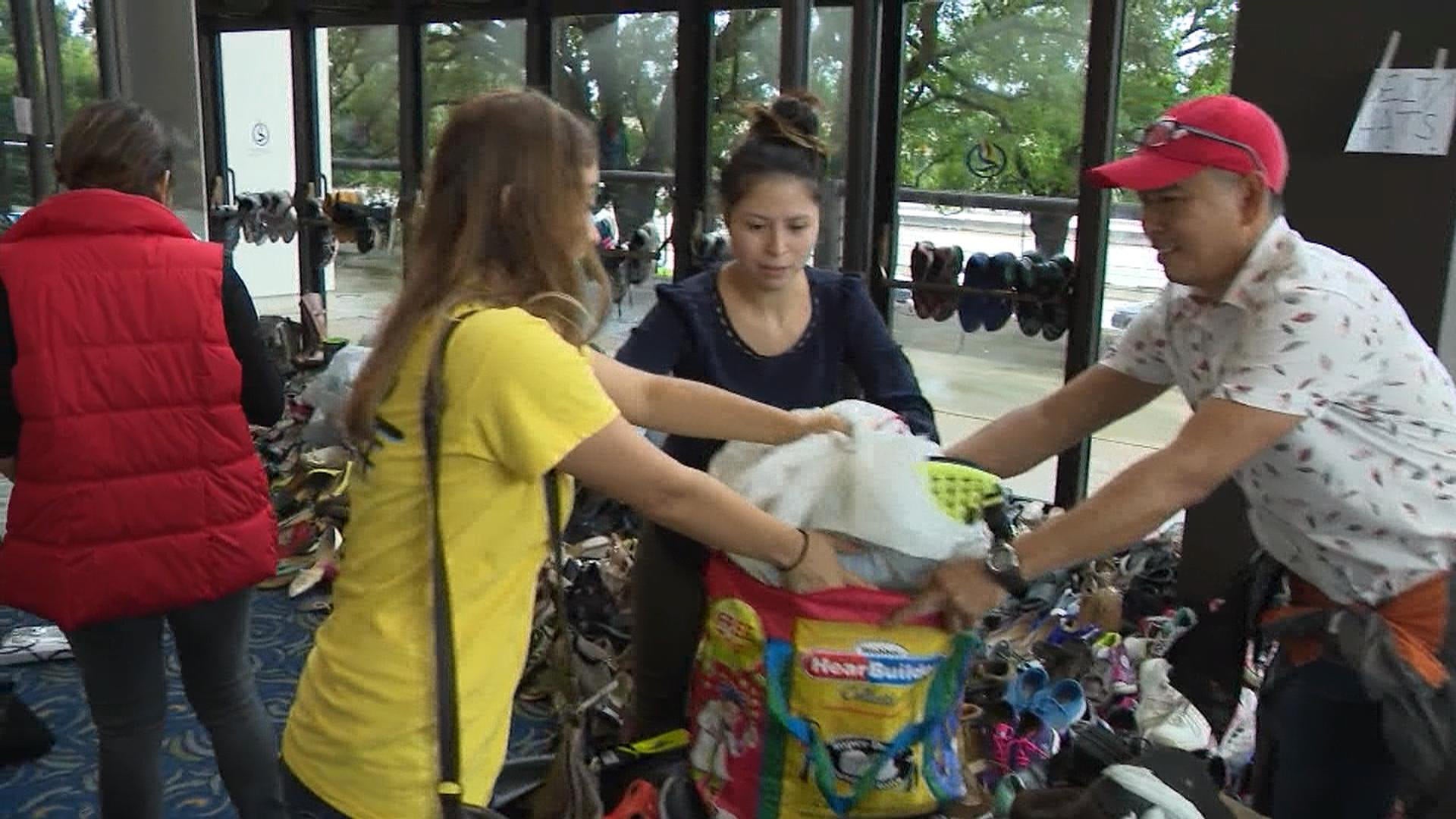 Joel Osteen's church in Houston opens doors for donations to Harvey victims
Pastor Joel Osteen's Lakewood Church began taking in donations Tuesday in the aftermath of Hurricane Harvey which has caused epic proportions of flooding and prompted thousands of rescues in the region.
CBS News' Omar Villafranca reported from the church's lobby, showing tables setup with various items of clothing available for those affected by Harvey's deluge. He says the outpouring of donations is "absolutely incredible."
Villafranca says that a line of volunteers stretches along the church lobby where they take a variety of items from people driving by the church to hand out to evacuees who have lost everything in Harvey's wake.
"There is a mountain of clean clothes for these people here," Villafranca said pointing to a table with a mound of jean pants.
Villafranca also posted on Twitter pictures that show even more clothes and donations in and out of Lakewood Church:
Earlier, some on social media accused Osteen of closing the church's doors to flood victims, but Osteen denies the accusation. On Tuesday, he announced the church was open and "receiving anyone who needs shelter."
Tuesday morning, Lakewood Church sent CBS News photos showing flooding in and around the church.
However, the online backlash was severe:
In a statement to CBS News, Osteen said "we have never closed our doors" and the church will "continue to be a distribution center for those in need." He added they are prepared to shelter people once the city and county shelters reach capacity.
The Lakewood Church location in Houston -- one of the largest congregations in the country -- used to be an NBA arena. It can seat 17,000 people -- three times the capacity of George R. Brown Convention Center, where more than 9,000 people stayed overnight (the convention center's official capacity is 5,000).
Texas Gov. Greg Abbott told CBS News on Tuesday that two more shelters were cleared to open Tuesday in Houston as the George R. Brown Convention Center reached nearly double its maximum capacity.
Abbott said the Toyota Center -- located just one block from the George R. Brown Convention Center -- and the NRG Center, also known as the Astrodome, was given clearance to open.
Abbott said the accommodations were not open right away because he "would assume" the need was not anticipated, as the storm grew faster than they though.
The official capacity of the George R. Brown Convention Center is 5,000, but more than 9,000 evacuees are currently there.
Thanks for reading CBS NEWS.
Create your free account or log in
for more features.