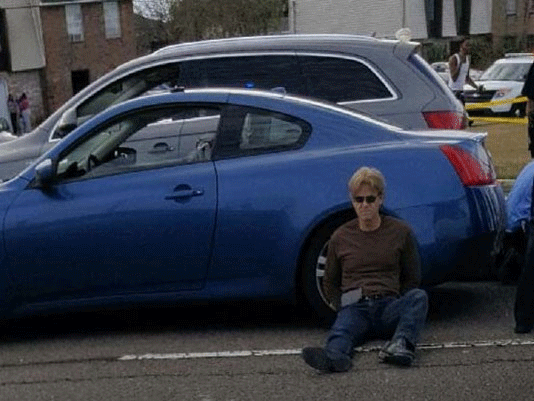 Joe McKnight shooting: Man charged after ex-NFL player's death
HARVEY, La. — The man who fatally shot ex-NFL player Joe McKnight has been arrested and jailed on a charge of manslaughter.
Ronald Gasser, 54, was arrested late Monday, after initially being released last week without charges pending further investigation, jail records show.
In a press conference Tuesday morning, Jefferson Parish Sheriff Newell Normand described a "road rage" incident that began minutes before McKnight was shot dead. Normand said Gasser and McKnight had weaved in and out of traffic, pursuing each other on at least two highways and other roads after one first angered the other.
Ultimately, they got to a red light at the intersection of Berman Highway and Holmes Boulevard in Terrytown, La., outside New Orleans. Normand said McKnight pulled alongside Gasser's car, and each rolled down their windows and began arguing.
At some point, Normand said, McKnight got out of his car and continued the argument while leaning down to see eye-to-eye with Gasser, who was in the driver's seat of an Infiniti sedan.
As the argument continued, Gasser pulled a gun from between his seat and the car's center console, and shot McKnight three times, Normand said.
Normand said a gun belonging to McKnight's stepfather was found inside the car McKnight was driving — which also belonged to the stepfather — but there is no evidence McKnight told Gasser about the gun.
During his press conference, Normand thanked McKnight's family for their patience, but had harsh words for those who had pressed the department to charge Gasser sooner. He said waiting to do so allowed investigators to interview Gasser for 10 hours without an attorney, and two hours with one.
Normand was defensive about how his office handled the investigation, CBS News correspondent Jericka Duncan reports.
"For those who have criticized the men and women of this organization and the strategy decisions that we made relative to that Tough," Normand said at the press conference. "I don't care"
Normand also read from some of the social media posts the department has received since the shooting. "I know that Norman is a piece of s**t and you stood behind that white boy with that bulls**t n***** you wont even stand with your people you self-serving son of a b***h," Normand read.
When asked why he felt the need to read out those profane messages, Normand said "we in this society today are demanding immediate results and we don't even know what we are talking about and we are castigating people that are trying to do the right thing."
In an interview with Duncan, members of McKnight's family said that they were not upset by the fact that Gasser was not immediately charged, but by the fact that that their loved one will never come home again.
Johanna and Jonathan McKnight want justice for their brother, and said they are willing to wait.
"We don't want anything to be rushed to judgment. We just want it to be taken care of the right way," Johanna McKnight said.
A report issued by the sheriff's office said Gasser was involved in a previous incident at the same intersection in February 2006. Gasser got into a "verbal altercation" with another driver, then followed the driver into a service station and "began to strike him with a closed fist," according to the sheriff's office. A charge of simple battery was later dismissed.
"What would you say to a community that's outraged?" Duncan asked Johanna and Jonathan McKnight.
"I would tell them like I tell people here. You can be outraged but you can do it within yourself," Johanna McKnight said. "Just do it in a peaceful manner because that's not what my brother stood for, that's not what we stand for."
McKnight played three seasons for the New York Jets and one with the Kansas City Chiefs.
The Jets held a moment of silence Monday night before their game against the Indianapolis Colts at MetLife Stadium to honor the former running back.
McKnight was rated the nation's No. 1 running back recruit when he came out of Louisiana in 2006 and signed with the University of Southern California. He was a fourth-round draft pick of the Jets in 2010 and played three seasons for New York. He spent a season with Kansas City, and most recently played for the Saskatchewan Roughriders of the Canadian Football League.
McKnight had a 107-yard kickoff return for a touchdown in 2011, and it remains the longest play in Jets history.
Thanks for reading CBS NEWS.
Create your free account or log in
for more features.