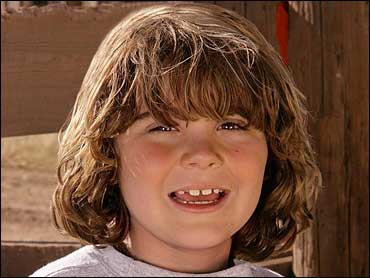 Jimmy: "Kid Nation" Was Really Cold
Anyone who watched the first episode of the controversial new show "Kid Nation" couldn't forget the scene where an 8-year-old tearfully confesses that he misses his parents and thinks he is too young to be on his own.
Jimmy, the show's youngest contestant, decided he had enough after just four days.
"I got really home sick," he told The Early Show co-anchor Hannah Storm "And a whole bunch of stuff wouldn't stop getting in my eyes. It was really, really cold that night. I missed my own bed and I hated sleeping on those little, little mattresses."
He raised his hand at the meeting and told all the children that he wanted to go home, which was hard because he said all the other kids wanted him to stay.
Jimmy thought "Kid Nation" would be like camp, but it wasn't. The 40 kids that range in age from 8 to 15 are working, making their own food and doing physical labor.
Jimmy's mother, Brenda (whose last name is being withheld for privacy purposes), said she had some reservations about sending her son away from home without adult supervision for such a long time.
"He ended up making the decision pretty much on his own," she said. "After we met everyone that was involved, all the support staff and everything, I was -- I was pretty comfortable. They were definitely competent. I was pretty happy with them."
Although Brenda felt secure about the situation at "Kid Nation", a psychologist wrote in USA Today that the children on the show are manipulated and shown some of the worst parts of society such as class, inequality and the fight for resources. Brenda doesn't agree.
"I don't think it's like anything different than what they do," she said. "I mean, like, if you're at school and you get on teams, you get picked for teams, somebody has to be the leader. I would say it's pretty close to the same thing as regular day life."
But Jimmy isn't sure what he has taken away from the experience.
"I don't really remember learning anything," he said.
But he was disappointed that that he didn't win a gold star which is made from real gold and is worth $20,000. His mom gave his a gold star-shaped paper weight to make him feel better.
A brand new episode of "Kid Nation" airs tonight at 8 p.m., 7 p.m. central on CBS.

Thanks for reading CBS NEWS.
Create your free account or log in
for more features.