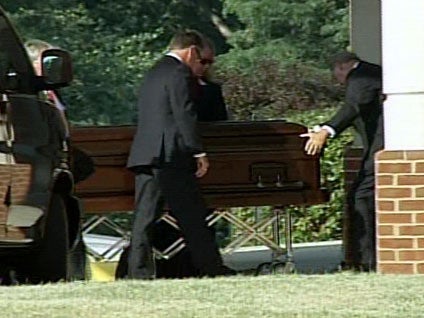 Jimmy Dean Remembered at Funeral Service
NEW YORK (CBS) Singer, actor and business entrepreneur Jimmy Dean was remembered at a funeral service on Monday morning.
Television personality Willard Scott and country singer George Hamilton IV were among those who addressed the crowd and shared memories of Dean at Grove Avenue Baptist Church in Tuckahoe, Va., according to CBS station WTVR in Richmond.
Pictures: Jimmy Dean
"I always felt he was such a big guy, he would just wrap you up in his arms. I remember one time when I was 5, he picked me up from school -- it was one of those running and jumping into his arms moments, that will stick with me," said Dean's granddaughter, Carolyn Taylor, according to the report.
Friend Thomas Custalow said, "Jimmy would talk about Big Bad John. I said 'Jimmy, you're one heck of a man yourself.'"
Former Virginia Gov. George Allen said he looked up to Dean, calling him a "modern day Will Rogers."
A public visitation took place on Sunday.
Dean died on June 13 at the age of 81.
After the funeral, the report states, Dean's body was taken to his home in Varina, Va., where it will be interred in a piano-shaped tomb. WTVR references published reports that state the tomb will be inscribed with Dean's dates of birth and death and words inspired from his Grammy-winning song "Big Bad John:" "Here lies one hell of a man."
Thanks for reading CBS NEWS.
Create your free account or log in
for more features.