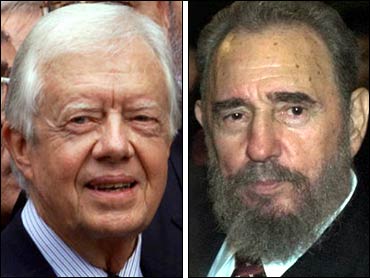 Jimmy Carter To Visit Cuba
Jimmy Carter announced Thursday that he will head a delegation to Cuba on May 12-17, making him the first American president in or out of office to visit this communist country during Fidel Castro's 43 years in power.
"I look forward to this opportunity to meet with Cuban people from all walks of life and to talk with President Castro," Mr. Carter said in a statement issued in Atlanta, where his nonprofit Carter Center is based. The center earlier said the trip was planned for May, but gave no exact dates.
The visit by Mr. Carter and his wife, Rosalyn, comes amid a toughening of the White House's policies toward Cuba. The State Department has said it hopes Mr. Carter will deliver Castro a message in favor of democracy and human rights.
Mr. Carter does plan to discuss human rights with Cuban leaders, said Jennifer McCoy, director of the Carter Center's Americas program. McCoy, a Georgia State University professor, will travel in the delegation.
"As a leader who made human rights the centerpiece of his administration, President Carter is looking forward to a full discussion of this issue," McCoy said in the statement from Atlanta.
But, she added, "President Carter is traveling as a private citizen with no intention of entering into negotiations with the government of Cuba."
Castro has said he would not mind hearing criticism, insisting that the most important thing is for Mr. Carter to see the country for himself.
Castro invited Mr. Carter to visit Cuba when they were honorary pallbearers at the October 2000 funeral of former Canadian Prime Minister Pierre Trudeau. Castro reiterated his invitation in writing in January, and Mr. Carter accepted soon afterward.
The Treasury Department, which regulates travel by Americans to Cuba under the U.S. trade embargo, issued a license in early April for Mr. Carter's visit.
Mr. Carter said that although he did not think his trip would change Cuba's policies, "it is an opportunity to explore issues of mutual interest between our citizens and to share ideas on how to improve the relationship between the United States and Cuba.
"More than a century after Cuba's independence, our two countries have not yet developed a constructive relationship," he added.
During his 1977-1981 presidential term, Mr. Carter slightly eased diplomatic and travel restrictions to Cuba.
The delegation will include Latin America scholar Robert Pastor, an Emory University professor. He also is adviser to the Carter Center's Americas program, established in 1986 to strengthen democracy in the Western Hemisphere.
Among others in the group will be Dr. John Hardman, a physician and executive director of the Carter Center, which the Carters founded in 1982 as a nonprofit organization to advance peace and health worldwide.

Thanks for reading CBS NEWS.
Create your free account or log in
for more features.