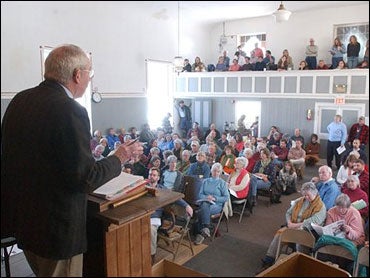 Jim Gray Back In The Game

A day after NBC sports reporter Jim Gray was snubbed on live TV, the network threw him right back into the thick of things with the New York Yankees and everyone talked this time.
NBC even made a last-minute change and allowed Gray to present the World Series trophy to the Yankees in their clubhouse after they beat the Atlanta Braves 4-1 for a sweep Wednesday night. Hannah Storm had presented the trophy in previous years.
Gray interviewed team owner George Steinbrenner, manager Joe Torre, World Series MVP Mariano Rivera, Derek Jeter and Roger Clemens after the game without a hitch.
At Game 3 Tuesday night, some members of the Yankees wouldn't talk to Gray because of a contentious live interview he had with Pete Rose on Sunday night regarding accusations Rose gambled on baseball.
After Chad Curtis hit his game-winning homer in Game 3, he refused to be interviewed by Gray and walked away from him in front of millions of TV viewers. But Steinbrenner and commissioner Bud Selig intervened to resolve the problem.
"We talked about it late last night and they both jumped into it," NBC Sports chairman Dick Ebersol said. "George walked into the situation and took control. He made it abundantly clear that nothing like that would happen again."
Ebersol, who admitted the Rose interview might have gone on too long, called Gray "the best reporter in the business, maybe ever."
Gray apologized for the Rose interview on the air before Game 3. At one point before Game 4, he left Yankee Stadium for the NBC trailer escorted by security men as fans shouted insults.
Torre had criticized Gray's interview of Rose but said the issue was in the past.
"We have a certain obligation to NBC," he said. "I just wish Chad would have said it was his choice."
Curtis said Gray shouldn't take his actions on Tuesday night personally.
"I hope it didn't come across that way," Curtis said. "It seemed to me that he stepped out of bounds on the interview with Pete. It was something that needed to be done. I don't think we'll do it again because my personal feeling is we've made our point."
NBC World Series analyst Joe Morgan, who played with Rose with the Cincinnati Reds, refrained from putting blame on either side.
"All this stuff is taking away from the World Series and none of this is good for the game," Morgan said. "All the layers are individuals. I heard they took a vote, but I don't believe it."
©1999 The Associated Press. All Rights Reserved. This material may not be published, broadcast, rewritten, or redistributed
Thanks for reading CBS NEWS.
Create your free account or log in
for more features.