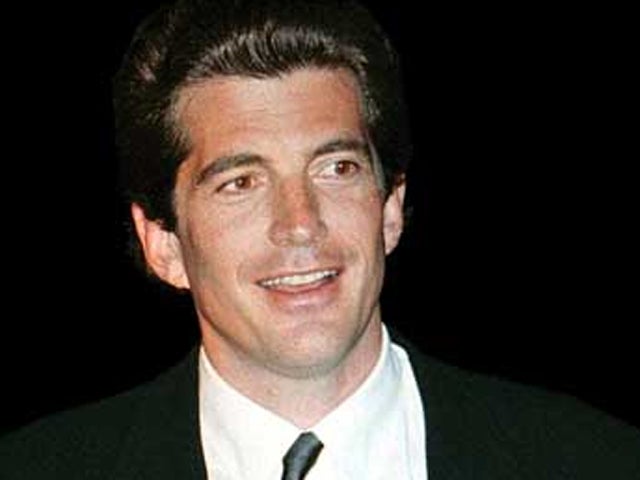 JFK Jr.'s ex: Kissing him was "magical"
John F. Kennedy Jr. was once known as the most eligible bachelor in America. Now, nearly 12 years after his death, his former girlfriend, Christina Haag, is opening up about the five years of romance and adventure she shared with the prince of Camelot in her new memoir, "Come to the Edge."

Haag's story, co-anchor Erica Hill remarked, reads like a first love.

Pictures: JFK Jr. Remembered
New Film Shows JFK's '63 Arrival in Dallas

Haag corrected, "It wasn't exactly a first love, but it felt like it."

Kennedy and Haag met when they were 15. They later teamed up when they were cast in a play. The pair had a staged kiss, but one night, Haag recalled, the kiss became a real one.

"In the theater, sometimes, there's a kiss in the play, you don't always rehearse it. You wait awhile," she said. "And one night, we were at his mother's house in New Jersey, because we were going to be rehearsing on a hill there. The play took place on a hill, and we were wandering around at night, and he said, 'I'd like to kiss you for real this time.' And it was -- it was magical."

Pictures: Legacy of TragedyPictures: JFK The Early Years

Haag said they fell in love during the play, but crossing over from friendship to romance is "a little tricky."

She added, "It also makes feelings more powerful. At least it did for me."

During their five years together, Haag had a front-row seat to some of the biggest events in the Kennedys' lives that fascinated so many people across the country.

She even slept in the same room as Caroline Kennedy's wedding dress the night before the nuptials.


"It was nothing special about me, but simply because the house was full," she said. "A lot of guests. And that was the room I was in, and I got to look at this magnificent dress the night before."

Haag added, "It was a marvelous day. It was -- it was really magnificent day. She was a beautiful bride. I think we all remember the dress, and how lovely it was and how beautiful she looked. There were pictures that ran everywhere. It was a very joyous occasion."

As for Haag, there was one point when she says Jackie Kennedy Onassis thought she might become one of the family.


Pictures: Jacqueline Kennedy Onassis

Kennedy, she recalled, had told his mother he had a surprise for her. Thinking that he wanted to get engaged or was engaged, Haag said, she had asked for her engagement ring from John's father pulled from the family safe.

The surprise, however, wasn't an engagement, Haag said. Kennedy just wanted to tell his mother that he'd bought a sports car off the street on a whim.

Haag said, "An ... orange sports car which we had a tremendous amount of fun and adventures in."

Haag said John and his mother were "very close."

"She took great delight in him," Haag said. "And there's a story in the book that he told me that in grade school he -- he went to the collegiate school on the West Side, and there was a dress shop, and we were passing it once and I said, 'Oh, I remember that dress shop from high school.' And he said, 'Oh, yeah, I bought my mother a dress there once when I was, I don't know, 12 or something. And there was a special $19.99 for two dresses.' They had a lot of polyester dresses in the window. And I said, 'Did she wear it?' And he said, 'She did that night, in the house. And she loved it.' She was a wonderful mother. They had a great relationship."

Haag and Onassis, Haag said, continued contact after she broke up with John.

"There would be a phone call now and then. Sometimes she would come and see me in a play or watch me if I was on a movie-of-the-week or something. ... And there were letters."

When speaking about the reason she and John Jr. broke up, Haag said, "We were young."

But years later, when she learned Kennedy had married Carolyn Bessette, she said she experienced "a wistfulness" about their time together.

"I remember I was in Penn Station (in New York) and I was on my way to do a play at the George Street Playhouse, and I'm sure I had a cry that day. But I had to continue on with rehearsal. And -- but I felt, even though things were over, there's a wistfulness. There's a sense of that's, 'Oh, this is a real ending.' And at the same time, I was proud of him. Because he was able to make that choice, and I felt that -- I felt happy that he was able to find someone that he wanted to spend his life with."
Thanks for reading CBS NEWS.
Create your free account or log in
for more features.