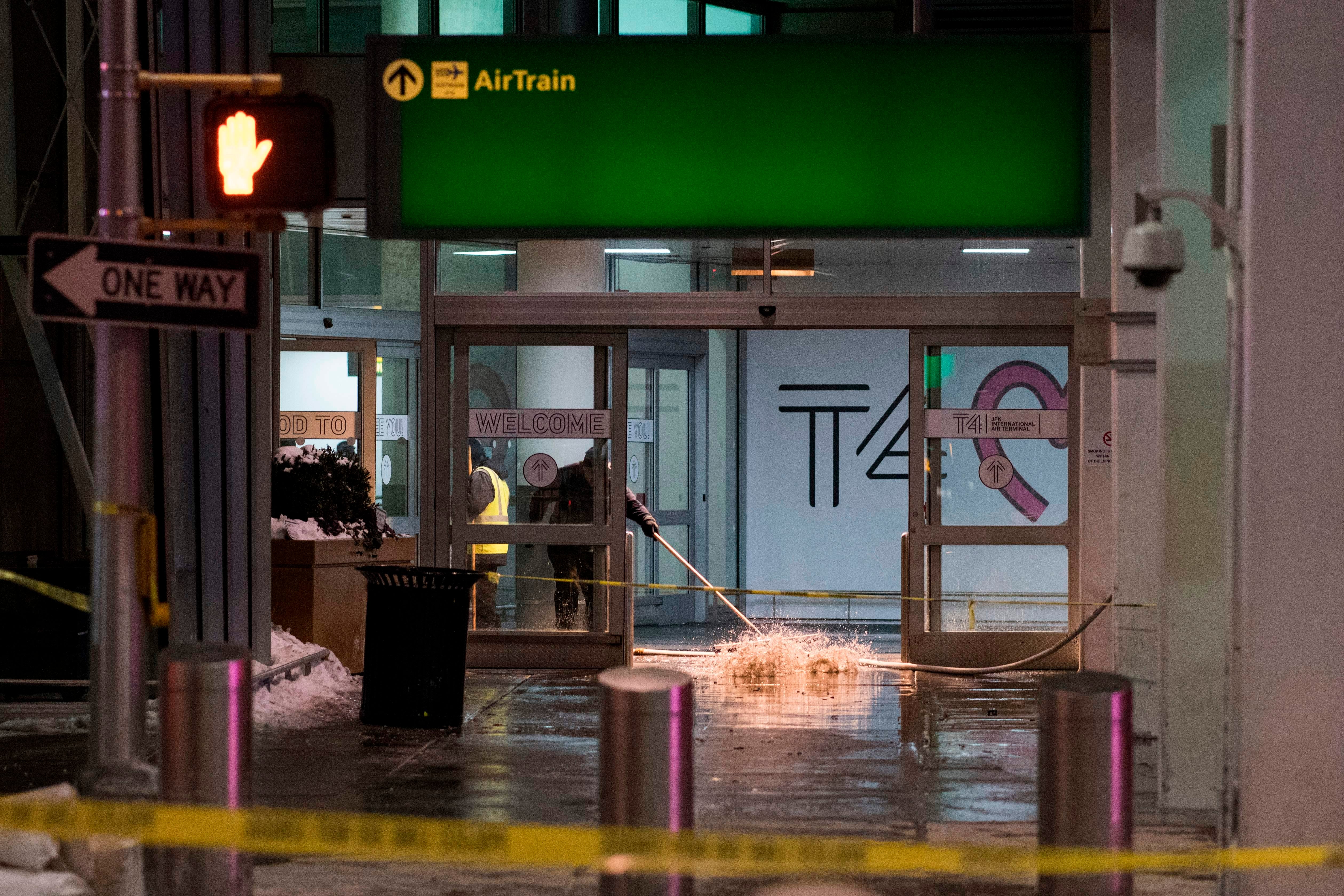 "Cascading failures" strand thousands at flooded, frigid JFK
NEW YORK -- A water pipe break in one of the terminals at New York's Kennedy Airport on Sunday added to the delays at the beleaguered airport trying to recover from the aftermath of a snowstorm that has stranded thousands of passengers.
In a statement, the Port Authority of New York and New Jersey said a water pipe that feeds a sprinkler system in the privately operated Terminal 4 broke at about 2 p.m., causing water to flood the terminal and significantly disrupt operations.
"What happened at JFK Airport is unacceptable, and travelers expect and deserve better," said Port Authority Executive Director Rick Cotton. "While the water pipe break that occurred appears to be weather-related, we have launched an investigation into the incident to determine exactly what occurred and why an internal pipe was not weather protected and whether any other failures contributed to this disruption."
The pipe break sent about three inches of water gushing onto the floor of the terminal. Video shows streams cascading from a ceiling and people slogging through pools of water.
Power to the affected areas was temporarily shut off for safety reasons and additional staffing and busing operations were deployed to assist travelers, the Port Authority said.
Domestic arrivals and departures and international departures from Terminal 4 were experiencing delays Sunday. Some international flights destined for Terminal 4 were being diverted or accommodated at other JFK terminals, the Port Authority said.
Following the storm, which blasted New York on Thursday, passengers were kept on planes and waited hours to retrieve luggage as flights were delayed and canceled, and a backup to get to terminal gates built up.
Carlos Koester, 52, was in New York for a week with his wife and two teens and just wanted to get home to Brazil.
"We love New York, but now we are stuck here. It's frustrating. The storm caught us and now we have been stranded here for 13 hours," Koester told the Daily News on Sunday.
CBS2 New York reported that Terminal 4 had finally reopened by 8 p.m. and flights had resumed with delays. But in all on Sunday, there were 352 delays and 46 cancellations at the airport.
CBS2 said one group of stranded passengers forage cardboard to build ramshackle "neighborhoods" in the stricken terminal. Others were stuck on dark planes on the tarmac for almost an entire a day, waiting to either go somewhere or be taken off thee planes.
"I was on the plane for a good 20 hours," frustrated traveller Michelle Lopez told CBS2's Reena Roy. "They took us out once to eat, then we went back to the plane."
Dimitri Grigoryev said he was stuck at the airport for three days.
"This is the third day, starting now," he said. "There are 300 passengers there and I should say they're becoming restless."
In a statement released before the water pipe break, the Port Authority said Saturday's cold "created a cascading series of issues for the airlines and terminal operators."
"These included frozen equipment breakdowns, difficulties in baggage handling, staff shortages and heavier than typical passenger loads," the statement said.
"In terms of why did the cascading failures occur, they occurred because the airlines and the terminal operators could not move aircraft out of gates at the normal rate that they had predicted," said Cotton, of the Port Authority.
Thanks for reading CBS NEWS.
Create your free account or log in
for more features.