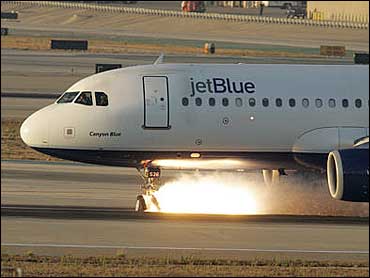 JetBlue Passengers Watched On TV
As JetBlue flight 292 circled the Los Angeles area for three hours to burn off fuel before attempting an emergency landing Wednesday, many of the passengers were watching the drama on TV screens at their seats.
The plane's landing gear wouldn't retract and was stuck in the sideways position after it took off from Bob Hope Airport in Burbank, headed for New York.
The Airbus A320 first circled the Long Beach Airport, about 30 miles south of Burbank, so ground crews could confirm the position of the gear. Then came the circling over Los Angeles before an emergency landing at Los Angeles International Airport, with sparks flying from the nose gear. No injuries were reported among the 140 passengers and six crew members on board.
Passenger Zachary Mastoon, 27, of Brooklyn,
He told The Early Show co-anchor Hannah Storm, "The pilot came on and said, 'Ladies and gentlemen, there is problem with the landing gear. It didn't fully retract, so we're in constant contact with Burbank and New York, and we're trying to figure out the best course of action.' But I just figured it was one less step we'd have to take when we got to New York. I thought we could just, well, the landing gear's already down, so we don't have to let it back down."
Christiana Lund, 25, just moved to New York from the L.A. area, and had gone back to pick up her car, which was with her on the plane.
"I think people started watching it after we had done the low fly-by in Long Beach," she told Storm. "That's when I started watching. And for me, at first, it was very scary to see: 'Oh, my God, we made the news!' But after awhile, I felt it was kind of comforting just to know for sure we knew what was going on. Just in case people on the plane weren't telling us everything that was going on, we had the news to follow."Mastoon wasn't reassured: "It definitely brought the whole thing to a different level of anxiety for me. I just thought it was fairly innocuous at first. Then, when they said we are going to do the fly-by in Long Beach and he's like, 'We're going to verify that the landing gear is in fact down,' I was like, 'OK, well, if they don't know that …' Then, when I noticed the image of our airplane on the television on a number of different networks, it was a little unsettling, I think. So I would have thought ignorance was bliss thousands of miles in the atmosphere."
Lund says passengers dealt in different ways. "Definitely, people were crying," she observed. "This woman in front of me was crying. I was holding her hand and just trying to calm her down. And people were definitely praying when we were landing, out loud and, it was a very emotional time for all of us. We just were giving each other hugs, people that we didn't know and the flight attendants were giving us hugs and trying to be as reassuring as possible to everyone, just knowing that we could get through it together."
The flight attendants were "absolutely amazing," Mastoon said, adding, "Judy, if you're watching this, you're the best flight attendant I've ever had in my life!"
Passengers were moved to the back of the plane, for weighting purposes.
"I actually had the last seat in the plane," Mastoon says. "I felt very grateful that I was in the back of the plane instead of toward the nose, which was going to, as we were told by more than one network by the commentators, it's going to be this huge crash and scrape around and fire. I'm like, 'Oh, I'm in the back.' "
And what was Lund feeling after the safe landing? "It was a really smooth landing actually, probably the smoothest I've ever had, which is amazing. I just had this rush of emotions afterwards. I just was sobbing, and the people behind me were sobbing, and it was such a relief to know that everything was OK. I expected to see flames and … it was so much better than we expected, and I'm just so grateful to the pilot. He did an amazing job."

Thanks for reading CBS NEWS.
Create your free account or log in
for more features.