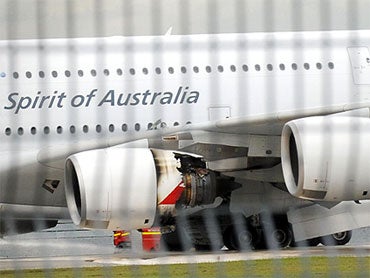 Jet Engine Failures Rare, Usually Not Fatal
Following an emergency landing of a Qantas A380 in Singapore, analysts speculated an "uncontained engine failure" caused the power plant's housing to disintegrate and damage the wing structure/
CBS News correspondent Celia Hatton reports that Qantas has never had a fatal accident in its 90 year history. There has never been a fatality involving an Airbus A380, and the engine failure is the most serious incident involving that type of aircraft since the model went into service in October 2007.
In the wake of the incident, here's a glance at airline engine safety:
• According to international safety statistics, there are about 25 incidents a year involving a jet engine failing either in flight or on the ground. That translates into less than one for every million flights worldwide.
• The overwhelming majority of such occurrences ends without incident because crews are trained on simulators to handle the loss of an engine.
• One of the best-known incidents of uncontained engine failure occurred in 1989, when 111 people were killed when a United Air Lines DC-10 crashed while making an emergency landing at Sioux City, Iowa. There were 185 survivors.
• In January 2009, a US Airways jetliner ditched in the Hudson River after its engines failed when the plane struck a flock of geese. All 155 people on board survived.
• More recent incidents include a Saudi Arabian Airlines 747 after takeoff from Jeddah in July 2008; a Jett8 Cargo Boeing 747 freighter after takeoff from Singapore last December; and an ACT Cargo Airbus A300 at takeoff from Bahrain in April. All ended without injury.
• The most frequent causes of engines breaking up are the ingestion of objects on the runway or birds trikes. Also, mechanical problems such as rotor imbalances can cause microscopic cracks to form on the turbine blades, leading to their failure.
• In May, the U.S. National Transportation Safety Board recommended more frequent engine inspections to deal with the problem.
Thanks for reading CBS NEWS.
Create your free account or log in
for more features.