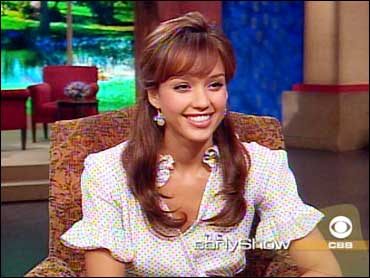 Jessica Alba's 'Into The Blue'
After starring in the spring's biggest hit, "Sin City," Jessica Alba looks to keep her winning streak rolling into the fall with the big sea adventure "Into The Blue," which is set in the Bahamas.
"I get to get paid to go scuba diving for four months in the Caribbean? Fine!" Alba tells The Early Show co-anchor Hannah Storm.
She was not aware that most of the filming was going to take place during the chilly winter months in waters frequented by sharks.
"The director (John Stockwell) was pretty adamant there was going to be no digital sharks," Alba says. "Basically any shark in the area came around and they plopped us in the middle. Giant, wild sharks around us all the time throughout the entire movie."
Alba says sharks are "not smart animals, which is why people do get bit once in a while. I was wearing a wet suit that was silver. So when I move around, it believed my head was a fish. So this shark with his mouth open was coming towards my head. I pushed it away because I freaked out. And the director later told me that that was happening to my double all day. He was like, 'I wasn't sure if it was going to happen to you.' I'm like, 'Thanks for the heads up!' "
Her character, Samantha "Sam" Nicholson, her boyfriend Jared Cole, played by Paul Walker of "The Fast and the Furious," and two other friends come upon a legendary shipwreck that is rumored to contain millions of dollars in gold.
When Alba worked on "The New Adventures of Flipper," she started free diving. That experience served her well on this movie, too.
"Free driving is like an extreme sports version of snorkeling," Alba says. "That's about 50 feet deep. And basically what you do is you hold your breath and you wear a weight belt and go down as fast as possible and hold your breath for minutes at a time."
It got pretty competitive with the other members of the cast, too. "I think I had the longest breath-hold. It was like one minute 20 seconds," she says.
Alba says "Into The Blue" is a "good date movie. I mean, there are women in bathing suits, but there are men in bathing suits."
About Jessica Alba:

Born in Pomona, Calif., on April 28, 1981
Moved frequently in the first nine years of her life; lived in Biloxi, Miss., Southern California and Texas. In 1990, her family settled in Southern California.
In 1992, she started studying acting (date approximate). The following year, made her feature film debut in "Camp Nowhere." She also appeared in national advertising campaigns for Nintendo and J.C. Penney.
In 1994, she had a recurring role on the Nickelodeon series, "The Secret World of Alex Mack."
From 1995 to 1996, had her TV series debut in regular role of Maya Graham on the syndicated revival of "Flipper."
In 1996, she starred opposite Freddie Prinze Jr. as his pregnant girlfriend in "Too Soon For Jeff," an "ABC Afterschool Special." She also had a small role in the direct-to-video release, "Venus Rising." Appeared twice (in different roles) on the CBS medical drama "Chicago Hope."
In 1998, starred in the children's comedy "P.U.N.K.S." Did guest spots on TV including roles in "Love Boat: The Next Wave" (UPN), "Brooklyn South" (CBS) and "Beverly Hills, 90210" (Fox).
In 1999, she acted alongside Drew Barrymore in the comedy "Never Been Kissed." She also had a featured role in the horror thriller "Idle Hands."
From 2000-Present, she took the lead of "Dark Angel," a Fox fall drama series, executive produced and co-written by James Cameron.
In 2003, she starred as a hip-hop dancer in the feature "Honey."
In 2005, she was featured as Nancy, "the sweetheart of Sin City" opposite Bruce Willis and Mickey Rourke in Robert Rodriguez's "Sin City." Then she went blonde and took the role of Susan Storm, better known as The Invisible Girl, for the big-screen, big-budget adaptation of the classic Stan Lee-Jack Kirby Marvel Comic "The Fantastic Four."


Awards: Received ALMA Award for Breakthrough Performer for "Dark Angel" (2001). Received Saturn Award for Best TV Actress for "Dark Angel" (2001).

Thanks for reading CBS NEWS.
Create your free account or log in
for more features.