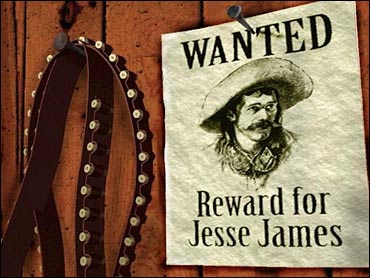 Jesse James: Still Wanted
Authorities have exhumed the remains of a Kansas farmer who died in 1935 in an effort to determine if he could have been the legendary outlaw Jesse James.
As about two dozen people watched Saturday, Wichita State University anthropologist and criminal justice professor Peer Moore-Jansen oversaw the removal of Jeremiah James' remains. Samples of hair, bones and teeth will be obtained for DNA analysis.
The observers included family members and cowboy re-enactors who wanted to honor the outlaw's legacy.
Some historians believe it's possible the outlaw faked his own death in 1882, although others believe James was killed by a fellow bandit who wanted to collect a $10,000 reward.
Bill Kurtis, who is documenting the exhumation and DNA analysis for the History Channel, said the story is good even if Jeremiah James does not turn out to be Jesse James - since 120 years later family and historians still can't agree on how and when the outlaw died.
"So, was Jesse James shot in the back of the head by the cowardly Bob Ford, as conventional wisdom has led us to believe?" he asked. "The truth is, we still don't know for sure. Which leads us to explore other theories as they emerge."
Nancy Haviland, a great-granddaughter of Jeremiah, initially opposed the exhumation, but changed her mind when the family was assured the grave site would be restored by Memorial Day.
Nevertheless, she remains skeptical. Her 99-year-old aunt remembers Jeremiah James for his sparkling brown eyes; Jesse James had blue eyes. The Jeremiah James she knows about was born in 1847, a farmer who lived into his late 80s and whose wife died less than two months before him.
"I love American history," said Chuck James, a descendant of Jeremiah. "If this isn't him, then there are other avenues to pursue."
There have been several other attempts in recent years to identify Jesse James' real burial site, including an exhumation of the wrong body in 2000, when searchers were hoping to prove that Jesse Frank Dalton of Granbury, Texas, was Jesse James.
James was among the most notorious Old West outlaws, his exploits sensationalized in dime novels. With his brother Frank, James was a member of the feared Quantrill's Raiders during the Civil War. After the war, he joined with other former Confederates to rob banks and trains.
Thanks for reading CBS NEWS.
Create your free account or log in
for more features.