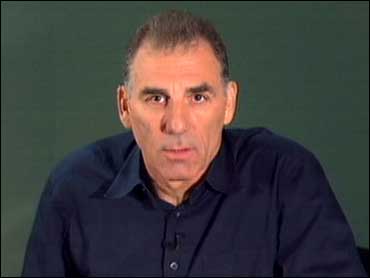 Jesse Jackson Talks To Michael Richards
Comedian Michael Richards said Sunday he did not consider himself a racist, and said he was "shattered" by the comments - filled with racial epithets and references to lynching - he made to two black men during a tirade earlier this month at a comedy club in West Hollywood.
Richards appeared on the Rev. Jesse Jackson's nationally syndicated radio program, "Keep Hope Alive," as a part of a series of apologies for the incident. He said he knew his comments hurt the black community, and hoped to meet with the two men.
He told Jackson that he had not used the language before.
"That's why I'm shattered by it. The way this came through me was like a freight train. After it was over, when I went to look for them, they had gone. And I've tried to meet them, to talk to them, to get some healing," he said.
Richards, who played Jerry Seinfeld's wacky neighbor Kramer on the TV sitcom "Seinfeld," was performing at West Hollywood's Laugh Factory last week when he lashed out at hecklers with a string of racial obscenities and profane language. A cell phone videocamera captured the outburst, and the incident later appeared on TMZ.com.
Comedian Paul Rodriguez, who has known Richards for 25-years, witnessed the tirade at the Laugh Factory. He's known Richard's for some twenty five years.
"What surprises me is that you don't learn these words overnight," he told The Early Show national correspondent Hattie Kauffman. "They're not part of your vocabulary. It sure came out like he'd done this before. "
Richards told Jackson the tirade was fueled by anger, not bigotry.
"I was in a place of humiliation," he said.
"A simple apology does not deal with the depth of the trauma," said Jackson. "The first step is to acknowledge you're wrong. The second step is to be contrite about it, not arrogant. The third is, it takes time to regain or earn trust, and that's where the healing process begins."
Asked by Jackson if he is willing to engage in the process of earning the trust of the people who he has offended, Richards replied: "Yes, a great trust, and a great trust in peace, a trust in myself and a trust with the African American community. I know I've hurt them very, very deeply. Now I can say I'm deeply sorry for this and proceed to go to healing."
"I'm blind," said Richards. "I need to get into the depths of my being, into the depths of darkness, into the depths of rage and anger, because they are there and it's a great tension of opposites between a good and a bad that I feel so deeply inside myself and I've got to do this work."
Richards' publicist, Howard Rubenstein, said Saturday that Richards has begun psychiatric counseling in Los Angeles to learn how to manage his anger and understand why he made the racist remarks.
"He acknowledged that his statements were harmful and opened a terrible racial wound in our nation," Rubenstein said. "He pledges never ever to say anything like that again. He's quite remorseful."
Jackson, who has called Richards' words "hateful," "sick" and "deep-seated," said the comedian's inclusion on the show was a chance for a broader discussion about "cultural isolation" in the entertainment industry.
"We might turn this minus into a plus," Jackson said.
Speaking to reporters after the program, Richards again expressed his remorse, as well as his hope that the incident will lead to useful dialogue.
"I'm sorry. I'm very, very sorry to the African-American community for the upset and as a performance artist, in the course of what comes through in the emotion of my work," said Richards. "I can say that I'm happy this has all come about, because it's out in the open and I've been a conduit to something that I think is quite meaningful and the work begins outside and the work begins inside."
A spokesman has said that Richards hopes to apologize directly to the two men who were the targets of his tirade.
Friday, one of the nation's most prominent attorneys, Gloria Allred, announced that she is representing Frank McBride and Kyle Doss, who say they were in the group that was targeted by Richards at the Laugh Factory last week.
Doss says he wants a "face-to-face apology" from Richards.
"To have him do what he did to me... I can't even explain it," Doss said. "I was humiliated, even scared at one point."
Allred is suggesting that Richards meet McBride and Doss in front of a retired judge to "acknowledge his behavior and to apologize to them" and allow the judge to decide on monetary compensation.
"It's not enough to say 'I'm sorry' on 'David Letterman,'" said Allred. "Our clients were vulnerable... He went after them. He singled them out and he taunted them, and he did it in a closed room where they were captive."
Richards' publicist said the comic wasn't considering any demand for payment. "He's not dealing with that," Howard Rubenstein said. "He wants to apologize to them directly and then see what happens."

Thanks for reading CBS NEWS.
Create your free account or log in
for more features.