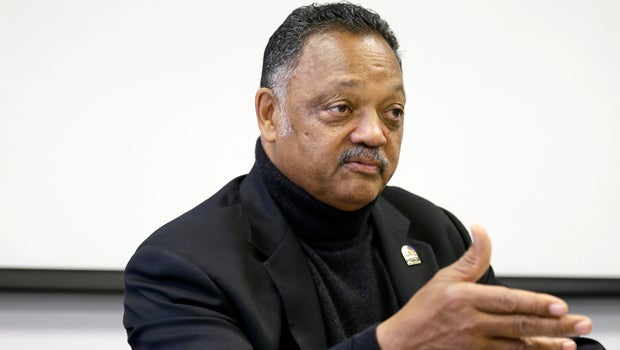 Little League cheating call raises allegations of racism
Supporters of a Chicago Little League team that had its national title revoked over allegations of cheating accused the Little League organization Wednesday of racism.
Little League International announced Wednesday morning that the Jackie Robinson West All-Stars had players in its lineup who lived outside the team's boundaries.
At an afternoon press conference, the Rev. Jesse Jackson asked, "Is this about boundaries or race?"
"This decision's untimely and inappropriate at this time," Jackson told reporters. "It should not take six months after a team has played a championship game to determine eligibility to play the game in the first place."
The league's decision came after teams from Illinois and Nevada complained that Jackie Robinson West's roster was rigged.
The Rev. Michael Pfleger called the complaints from the Illinois team "mean-spirited" and "personal."
"When you're going over to voter registration and going to birth certificates and doing all this time of hunting and a witch hunt that's been going on for the last number of months, I can't help but wonder the question if the same thing would have been done with another team from another place, another race," Pfleger said.
Officials from the Illinois and Nevada teams spoke to CBS News before the league announced its decision.
"Little League has very specific rules in terms of where somebody should live in order to play for a particular little league," Evergreen Park Little League Vice President Chris Janes of Illinois said. "JRW's boundaries are very specific and do not extend into any suburbs."
Nevada's Mountain Ridge made it all the way to the U.S. final, eventually losing to Jackie Robinson West.
"They tricked people, and they blindsided others, and they did those things that were strategic but illegal," Mountain Ridge coach Ashton Cave said.
"It's just a matter of integrity and dignity, and it's just awful," Mountain Ridge parent Kristi Black said.
An inquiry by Little League International last year exonerated the Jackie Robinson squad, but new information reopened the residency wrangle, much to the consternation of the Chicago team's boosters.
"We had to provide birth certificates, proof of schools, light bills, so we had to prove our residency in order to join the team," Jackie Robinson West parent Venisa Green said before Wednesday's decision.
At Wednesday's press conference, Green said she was "blindsided" by the league's decision and that she heard about it on the radio as she was driving her son Brandon to school.
"It is amazing to me that whenever African-Americans exceed the expectations that there is always going to be fault," Green said.
Jackson called on the Las Vegas team to not accept its newly awarded championship, saying the team "did not earn" it.
Thanks for reading CBS NEWS.
Create your free account or log in
for more features.