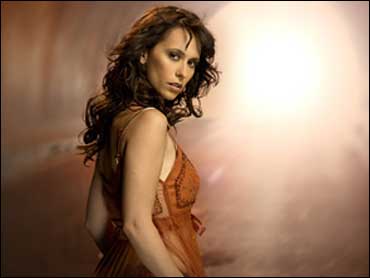 Jennifer Love Hewitt's 'Ghost'
In the new CBS drama "Ghost Whisperer" Jennifer Love Hewitt plays Melinda Gordon, a young newlywed desperate to lead a normal life.
But it's not easy because she also has the ability to see, talk, and help departed spirits seeking closure.
In the premiere episode, the ghost of a lost soldier contacts Melinda. The show is based on the experiences of a "real-life ghost buster," Love Hewitt tells The Early Show co-anchor Hannah Storm. "She is a consultant on the show. We went ghost busting in L.A. together."
The medium actually went to Love Hewitt's 1927 house and found two ghosts, a man and a woman.
"If you start feeling very lethargic and you have throat problems or really bad headaches, a lot of times that can sometimes mean there is nothing wrong with you physically, but also that you have a ghost," says Hewitt.
"They're drawing on your energy. They draw on your upset, on your stress, on your tired, on your emotional and whatever else is going on with you at the time. Because they pull your energy, you feel like you're sick."
Thankfully, Hewitt says, they are now gone.
"She basically asked them if they were ready to go and sort of had this conversation. She talks with them basically, like, in my living room. Then she crossed them over to the light. And I have not had one thing since."
And though Hewitt says she is not sure if this is true or not, she does the same in her show.
"It is about the human spirit," she says. "Each show consists of incredible stories that will inspire people to go live their lives so they don't have any unfinished business. This show teaches viewers not take anything for granted."
Some Facts About Jennifer Love Hewitt
Jennifer Love Hewitt was born in Waco, Texas, on Feb. 21, 1979.
In 1988, at age 9, Hewitt became member of the Texas Show Team; toured Russia.
In 1989, Hewitt toured the world for L.A. Gear; she had her first regular series role on Disney's "Kids Inc."
From 1992 to 1993, Hewitt played Matt Frewer's daughter on Fox Television's "Shaky Ground."
In 1993, Hewitt co-starred in feature film "Sister Act 2: Back in the Habit."
In 1994, Hewitt played Timothy Busfield's daughter on ABC's "Byrds of Paradise"; played Bailey's songstress girlfriend Sarah Reeves on Fox Television's "Party of Five."
In 1996, Hewitt co-starred in "House Arrest."
In 1997, Hewitt was the lead in the hit thriller "I Know What You Did Last Summer."
In 1998, Hewitt reprised her role of Sarah from the Fox spin-off series "Party of Five" in "Time of Your Life"; she also served as one of the show's producers.
In 2000, Hewitt portrayed Audrey Hepburn in an ABC biopic.
In 2002, Hewitt released an album, "BareNaked," on Jive Records; the actress co-starred with Jackie Chan in the action comedy "The Tuxedo."
In 2004, Hewitt played Nancy Sinatra on the NBC series "American Dreams." Played Liz in "Garfield," and took the role of Emily in the TV movie, "A Christmas Carol."
This year, she was seen in "Confessions Of A Sociopathic Social Climber."
Thanks for reading CBS NEWS.
Create your free account or log in
for more features.