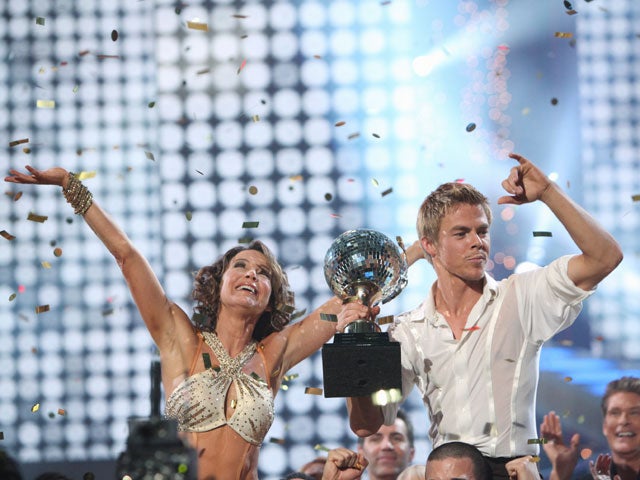 Jennifer Grey Fought Cancer, Spinal Cord Injury to Win "Dancing with the Stars"
(CBS) She fought through pain, fought through injury and almost didn't dance in the finale due to a ruptured disc, but Jennifer Grey emerged victorious Tuesday night as the "Dancing with the Stars" season 11 winner.
"Pain you forget, but this I will remember for the rest of my life," she told ABC News after the show.
The season was an amazing and at times scary journey for the 50-year-old actress who once thrilled movie goers with her sultry steps in "Dirty Dancing."
In 1987, shortly before that film was released, Grey was in a horrifying car accident with then boyfriend Matthew Broderick. Two women died. Broderick was hospitalized for a month and Grey was seriously injured.

"The collision was so intense that ligaments were ripped from the back of my neck. I'd have a headache for four days where i could barely open my eyes," she told ABC News's Chris Connelly in October. Any movement of her shoulders and above would cause her neck to spasm.
Grey lived with the pain for 20 years, but the damage and medical risks were worse than she knew.
A pre-"Dancing with the Stars" medical checkup revealed Grey was at risk of being paralyzed.

"Her spine was actually literally falling off. One good fall or a rear end accident or throwing her head suddenly and it could have done serious damage to her spinal cord," neurological spinal surgeon Dr. Robert Bray, Jr., told ABC. "We are talking about complete paralysis."
Bray performed several operations on Grey and screwed a titanium plate into her spine. Then he had even more shocking news for the actress - cancer.
X-rays found a cancerous growth in her thyroid. Grey told ABC her doctors were able to remove it before the cancer spread to other areas.
For Grey, it's a story of survival and now revival.
Before Tuesday's victory, she was hospitalized yet again with a ruptured disc, but she battled on and won.

"I had been asked for nine years and I said no out of fear," she told TVGuide.com. "I would've been robbed of this amazing experience had I not said yes and had the courage."
Thanks for reading CBS NEWS.
Create your free account or log in
for more features.