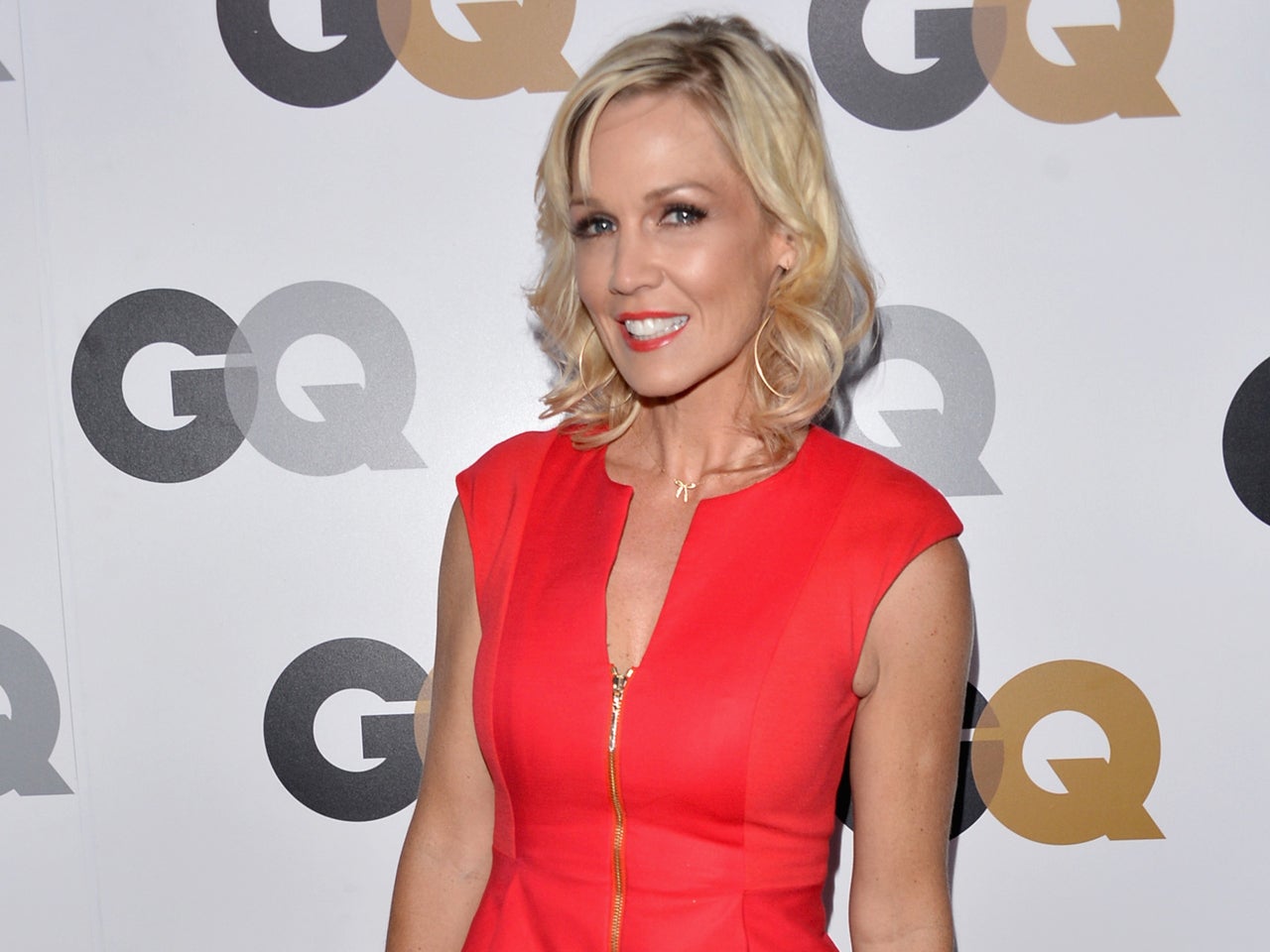 Jennie Garth: "I'm in a really good place"
Jennie Garth recently had lunch with Luke Perry, Jason Priestley, Gabrielle Carteris and one of their "Beverly Hills, 90210" producers. Later that night, Garth and Shannon Doherty shot off to Las Vegas to see another former co-star -- Ian Ziering -- perform with Chippendales as part of his two-month guest stint.
"Shannon and I had a great time," Garth told CBSNews.com. "It was a quickie but a goodie. You only need to go to Vegas for long, you know...It was a definitely a learning experience, let's just say that."
With all of this reuniting, it's easy to let your mind wander to thoughts (or even dreams) of a "Beverly Hills, 90210" reunion. The hit series from Darren Star went off the air 13 years ago -- and although Garth reprised her Kelly Taylor character in the "90210" reboot, don't hold your breath for a true resurrection of West Beverly High School.
"I don't know. I don't think so," Garth said about a reunion with the original cast. "I wouldn't imagine -- but stranger things have happened." Interesting. Although it sounds somewhat unlikely, Garth, 41, did leave the door open.
Reunion or not, "Beverly Hills, 90210" fans will likely get to see Garth and Perry together on the small screen once again (Hooray for Team Kelly and Dylan!). They have plans to do on a one-hour series. Details are scarce at the moment, but plans are in motion, Garth said. And the two recently made guest appearances on NBC's "Community."
It's nice to see the old gang back together again -- at least partially. And even when they're not together, the actors sound like they're definitely rooting for one another. Garth said she had heard about the recent social media frenzy surrounding Ziering's new Syfy movie, "Sharknado." "I just saw a clip of it...I heard about it and was like, 'What the hell is that?' He's been working hard at working for a while now so I'm happy for any success that comes his way," Garth said.
As for Garth, in addition to the Perry project, she will star in the upcoming ABC Family movie "Home Again." And when she's not working in Hollywood, Garth spends much of her time with her three daughters, Luca Bella, Lola Ray and Fiona Eve. They're actually part of the inspiration behind Garth getting involved in the new Eye Saw Good campaign, a charitable initiative benefiting Kids Vision for Life, a program that supplies eye exams and glasses to underprivileged kids.
"My oldest and my middle child both have glasses now -- and I realized how important it is for them to see well at school and how that affects their grades and their ability to concentrate...and all the things that go along with it," said Garth. "Being a parent is giving your kids the best that you can... I think a lot of parents maybe don't consider it. You consider the doctors visits and the dentist, but then comes the vision care. It's vital it is to their overall well-being in life."
Inside her Los Angeles home, vision care has become a priority.
"Being that my oldest one is 16 now, she's able to communicate with me...Every year I have to check in with her and she'll tell me if she thinks her prescription is still on target or not...It's important to get your eyes checked every year because things change so much, especially when kids are developing at a rapid pace...Even my 6-year-old, she's reading like a fiend now and she's telling me that the words are a little blurry now. So I'm going to take her in to get her vision checked," continued Garth, who's encouraging people to spread the word by tweeting and posting something "good" using hash tag #EyeSawGood to raise awareness.
Garth's home life, meanwhile, looks a little different these days. The actress and Peter Facinelli, her husband of 11 years, separated last year -- and their divorce was finalized in June. When asked how she's doing, Garth said, "I'm feeling great. I'm in a really good place."
Her life experiences -- including motherhood and her divorce -- may find their way on to the written page. Garth said she's working on a book about her life -- "being a woman and all that jazz."
And meanwhile, we'll be holding out for that "Beverly Hills, 90210" reunion.
Thanks for reading CBS NEWS.
Create your free account or log in
for more features.