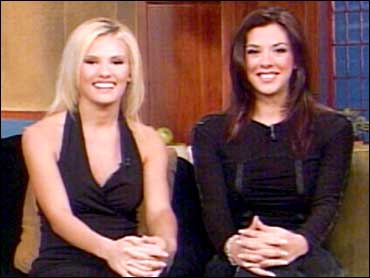 Jenna And Heidi In Playboy
One of the highlights of last season's "Survivor: The Amazon" was watching to see just how far contestants Jenna Morasca and Heidi Strobel were willing to go for a snack during a reward challenge.
Now, Heidi and "Survivor" champ Jenna are appearing in the buff for a pictorial in Playboy magazine, and you can bet they didn't get paid in peanut butter.
How much they got paid, both Jenna and Heidi claim they cannot say, Jenna says, "We would have kicked ourselves years from now if we didn't." The Early Show, co-anchor Julie Chen notes it has been reported to be around $1 million.
What Jenna does say is that she made the decision to bare it all before she knew she was the "Survivor: The Amazon" winner. And winning did not make her change her mind.
She says, "It was more money. It was fun. I was excited to do it with Heidi."
Playboy approached the two as a team, not individually. Heidi says, "Both of us felt like it's either the two of us as friends or no deal."
But no arms had to be twisted.
Jenna says, "There wasn't much convincing. We were nervous at first because, you know, it's a huge magazine. You always get apprehensive before you do shoots. It didn't take - we just discussed it and it wasn't a big deal."
The swimsuit model says even the fact that she was not wearing any clothes did not make this much different from previous photo shoots.
She says, "It's such a professional staff. They are really top class. It was very professional. I felt very comfortable. I didn't feel pressured into doing anything I didn't want to do. The whole staff was great. It's very different to work with magazine that's been around so long and has such good reputation."
Heidi says money was not what enticed her to accept the offer.
She says, "It is the top men's magazine. But also, she's my best friend. It's, like, any other opportunity comes along I would equally want to do that as much doing it with Jenna."
Jenna adds, "It was a good deal. We felt very comfortable. We're young. We're having fun. I felt, like, if we said no, I didn't want to have regrets."
But when asked if "Prior to going on the show 'Survivor' would you have done this?"
Both said, "No."
Jenna adds, "There's a comfort level when you're there with somebody that you know so well. Coming off the show, being so close, we know everything about each other. It's a different level that you have with someone when you know - I'm not going to let her look bad or do something I know she's going to be uncomfortable with."
Heidi agrees.
The photo shoot took place the day after the finale. Jenna says, "Straight from 'Letterman' we went to the shoot. We had such long days."
By then they had gained some weight and say they looked good. Jenna says, "It was a little stressful because of the timing and we wanted to make sure everything turned out perfect. It was really fun."
As for what has Jenna done with the money she won from the reality show, she says, no major purchases have been made. "Not yet for myself. It's all invested."
Thanks for reading CBS NEWS.
Create your free account or log in
for more features.