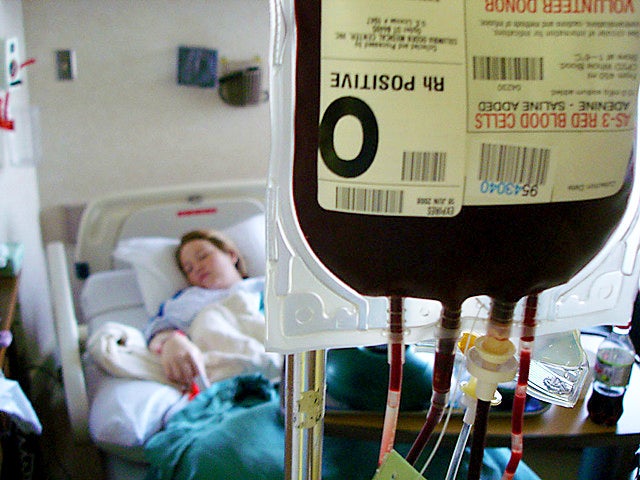 Jehovah's Witnesses who refuse blood transfusions after cardiac surgery at no greater health risk
(CBS News) New research shows that Jehovah's Witnesses who refuse blood transfusions after cardiac surgery are at no greater health risks than people who undergo the procedure.
The study, which was published in the Archives of Internal Medicine on July 2, intended to look at patients who do not undergo blood transfusions after cardiac surgery. Because Jehovah's Witnesses believe on religious grounds that they are not supposed to ingest the blood of another, they made ideal test subjects.
The study looked at 48,986 non-Witnesses who had blood transfusions and 322 Witnesses who refused to have blood transfusions who all underwent cardiac surgery between 1983 to 2011. After matching the patients up by similar cases, researchers found both groups had similar risks for dying at the hospital. However, Witnesses had lower chances of having additional operations for bleeding, renal failure and sepsis compared with non-Witnesses who received transfusions.
"It behooves us to examine more closely some Jehovah Witness processes of care and implement them in our routine surgeries," study author Dr. Colleen Koch, a cardiothoracic anesthesiologist at Cleveland Clinic in Ohio, said to HealthDay.
Witnesses spent less time in the intensive care unit and less time in the hospital than the other group. They also had higher survival rates compared to the people who were non-witnesses at 95 percent and 89 percent respectively. Both groups had close 20-year survival rates (34 percent versus 32 percent).
According to the Mayo Clinic, blood transfusions can cause a number of health complications, including allergic reactions, fevers, lung injury, spread of bloodborne infections and acute immune hemolytic reaction - a rare transfusion reaction in which a person's body attacks the new blood because it's not the proper type. But, HealthDay points out that screening techniques introduced in the 1990s have made it safer than it previously was.
Transfusion is typically ordered because of the risk of anemia - which the National Institutes of Health defines as a condition where the body does not have enough red blood cells. Anemia can cause the person to feel tired or weak, have headaches and shortness of breath, as well as problems concentrating or thinking.
Dr. Victor A. Ferraris, a professor of cardiothoracic surgery at the University of Kentucky, wrote in an accompanying commentary that the study shows that it might do doctors well to look at their own practices.
"The findings of this analysis by Pattakos and colleagues add to the increasing data that suggest that more conservative use of blood transfusions would be in our patients' interest, in both Witnesses and non-Witnesses," he stated.
But, Dr. Gregory Fontana, chair of cardiothoracic surgery at Lenox Hill Hospital in New York City, warns HealthDay that the results don't indicate that we should expand the findings to everyone.
"just because this paper is published, we cannot willy nilly start treating everyone like Jehovah's Witnesses," he told HealthDay. "It does provide further evidence that transfusion with real indication carries a risk that heretofore has been underestimated."
Thanks for reading CBS NEWS.
Create your free account or log in
for more features.