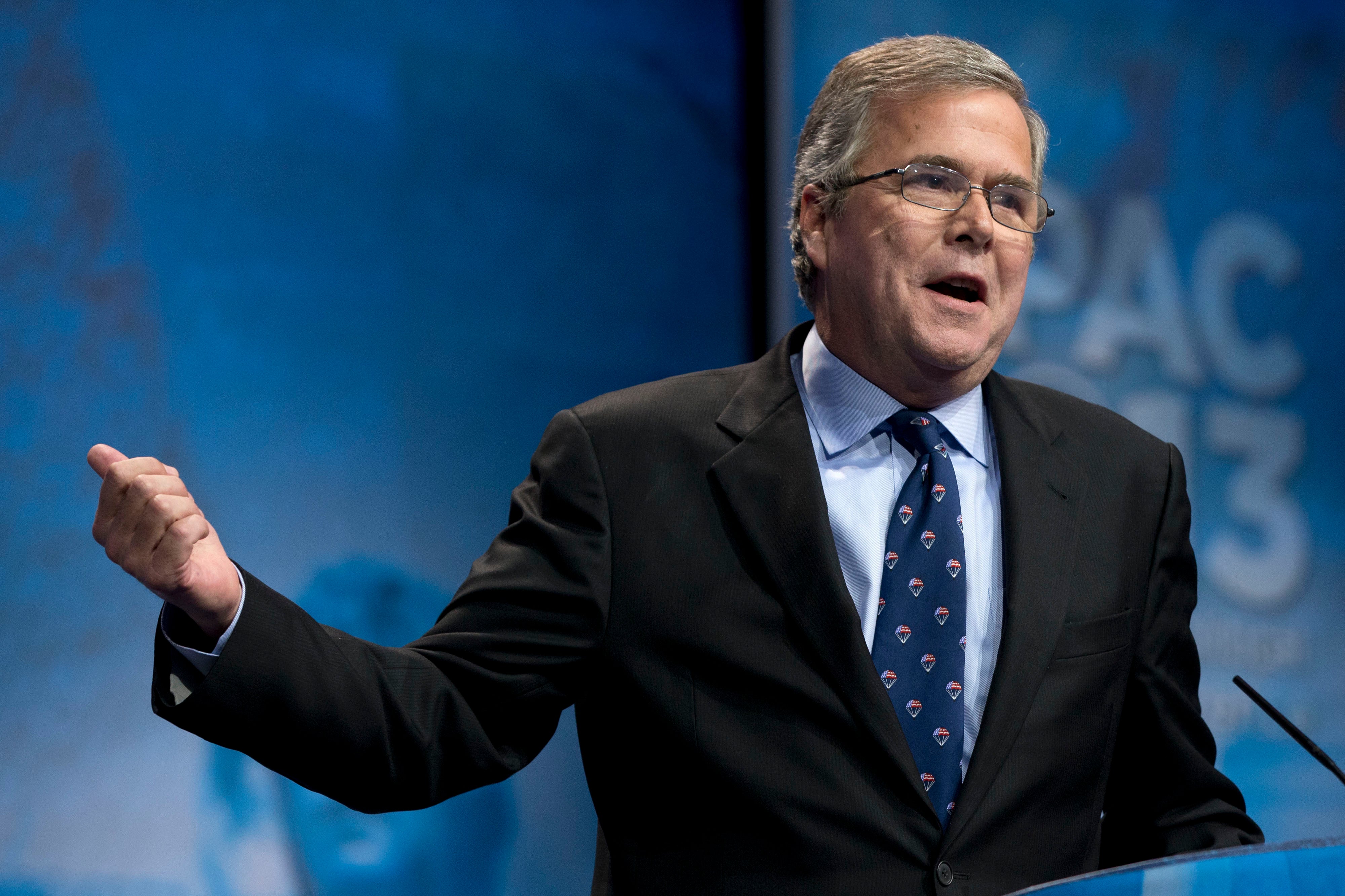 Jeb Bush: Republicans can't be seen as "anti-everything"
Former Florida Gov. Jeb Bush urged Republicans to not be the "anti-everything" party during a speech before the Conservative Political Action Conference on Friday evening, advising his colleagues to project a more welcoming, more inclusive message to attract more Americans into the GOP's waiting arms.
"We're associated with being anti-everything," Bush said. "Way too many people believe that Republicans are anti-immigrant, anti-woman, anti-science, anti-gay, anti-worker. Many voters are simply unwilling to choose our candidates because those voters feel unloved, unwanted, and unwelcome in our party."
And it's not tenable, he warned: "Never again can the Republican Party simply write off entire segments of our entire society because we assume our principles have limited appeal ... We need to be larger than that."
He counseled Republicans to eschew the "divisive and extraneous issues that currently define the debate." Accordingly, his speech largely steered clear of the culture war - he scarcely mentioned social issues and paid only brief tribute to immigration reform, saying he hopes for the success of current congressional reform efforts on the issue.
Immigration is a signature issue of Bush's that has tripped him up recently, with his recent book generating criticism that he has reversed his support for a path to citizenship for undocumented immigrants.
Bush urged the GOP to prize socioeconomic mobility and recognize that the odds are unfairly "stacked against" some elements of American society. "Here's reality," he said. "If you're fortunate enough to count yourself among the privileged, the rest of the nation is drowning.
"In our country today, if you're born poor, if your parents didn't go to college, if you don't know your father, if English isn't spoken at home, then the odds are stacked against you," he said. "Americans have the sense that our economy is fragile, its rewards are unfairly tilted toward the few, and that the greatest prosperity in this century will be enjoyed by other people in other lands and not by our own children.
"But tonight," he said, "I'm here to tell you that this is 100 percent wrong."
America's future will be bright, Bush predicted, if the country can address the "dark cloud" on the horizon. He labeled government's "federal spending addiction and a lackluster system of public education" the "two greatest impediments to achieving our potential in this century."
Though he is seen as a potential candidate for the 2016 Republican presidential nomination, Bush declined to be included in the CPAC straw poll, which gauges support among attendees for a roster of potential presidential aspirants.
The brother of former President George W. Bush and son of former President George H.W. Bush, Bush also told the audience that his father is "back at home and doing well."
"His only problem now is that his current care provider won't be pampering him like the nurses in the hospital," Bush explained. "Her name is Barbara Bush, and she is tough."
Thanks for reading CBS NEWS.
Create your free account or log in
for more features.