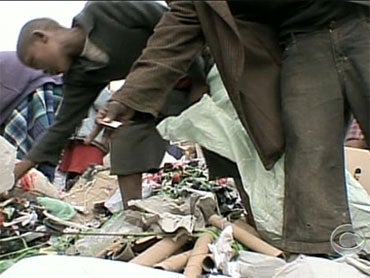 Jean Factory Toxic Waste Plagues Lesotho
There's a disturbing report today of dangerous waste being dumped by a plant in Africa which manufactures blue jeans for American consumers.
Both Gap and Levi Strauss are investigating the alleged dumping at the plant in Lesotho in southern Africa, as CBS News correspondent Sheila MacVicar reports.
On the outskirts of Maseru, dozens of children - the poorest of the poor - scavenge at a huge municipal dump for anything useful - anything they can sell.
A months-long investigation by the London Sunday Times found tons of illegally dumped waste from garment manufacturers including suppliers of major denim manufacturers Levi Strauss and Gap.
Among the scraps of denim and discarded clothing tags are hidden dangers.
"We found razors, sharps and needles that are traditionally used in textile machinery. So there's a lot of hazardous waste," said Dan McDougall, Africa correspondent for the London Sunday Times.
The dump is constantly burning. Acrid smoke fills the air. Most of the children have chest infections. People complain of skin irritations.
One woman told CBS News that her hands and arms were covered in sores after she touched chemicals sometimes found there. "I couldn't stop the itching," she said.
The garment industry and international contracts with Gap and Levi have brought thousands of desperately needed jobs to Lesotho. In exchange for those contacts, manufacturers are supposed to adhere to strict codes of social and environmental responsibility.
The textile mill supplying the companies has installed a water purification facility, but the Sunday Times found that untreated wastewater, dyed deep blue and polluted with chemicals, is leaking into the water table and a local river.
"When you stand up on the ridge, and look down it is bright blue. It is unnaturally blue. And you can see right along the banks of the river there are strips of cotton material, slime, the mud is actually stained blue," McDougall said.
And just outside the plant, one of the pipes carrying wastewater was broken. Residents say it's been that way for years.
"The water smells terrible," a woman said. "And it makes us feel ill."
"It's polluting our land, it's polluting our air, it's polluting our water," said John Buaska, an environmental activist. "And on the other hand they say they are helping Africa."
Gap, which takes pride in its reputation for social responsibility, moved quickly.
"In just the few days since we found out about these troubling allegations," said Gap Senior Vice President Dan Henkle, Sr., "we have done the following: We have conducted an on the ground investigation of our own; We've commissioned an independent monitoring organization to conduct their own investigation; And we have put one of the factories involved on immediate notice until all issues are adequately resolved."
Levi Strauss has also promised action over conditions at the dump, saying in a statement, "We are committed to working closely with suppliers and government leaders to help protect the community."
People might feel differently about their favorite pair of jeans if they knew the hidden costs of what was happening half a world away.
Thanks for reading CBS NEWS.
Create your free account or log in
for more features.