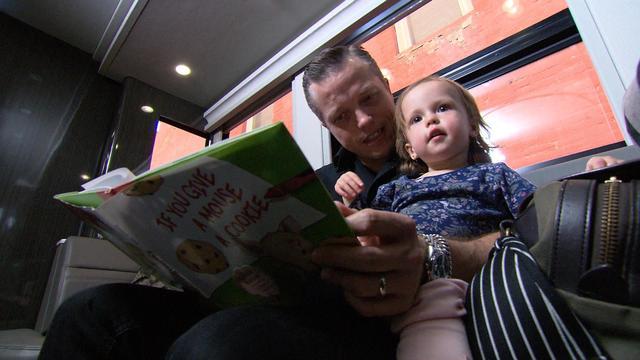 Jason Isbell reflects on his past life and most important title -- father
Jason Isbell and the 400 Unit's "The Nashville Sound" is out Friday. It's the sixth album for singer-songwriter Isbell, who has won two Grammy awards and cracked the top 10 of the U.S. album charts.
He also has something else to celebrate.
At 38, Isbell has become one of Nashville's most acclaimed singer-songwriters, with songs about heartache and loss as well as learning and redemption. He has lived all of that, reports CBS News' Mark Strassmann.

Isbell just launched a six-month international tour that will take him from Cincinnati to Copenhagen, backed by his band the 400 Unit.
Off-stage, crowds will not see who else he brought on tour: a young, devoted fan named Mercy -- his 21-month-old daughter.
"It's a lot of fun to be able to take her on the road, and I'm really dreading the time when that's going to have to stop, ya know?" Isbell said. "There's a big responsibility, so I have to look at it like, would I want her to be around somebody like me?"
But early in his career, Isbell acted like the child. In his 20s, when he played with the group the Drive-By Truckers, by his own admission Isbell drank a fifth of Jack Daniel's a day and loved cocaine.
"It was so bad that I can't have one drink ever again. That's gotta be pretty bad," Isbell said.
Too much for the Drive-By Truckers. In 2007, they kicked him out of the band. He also lost his marriage.
"He got really upset and told me he had a problem and couldn't quit drinking on his own. He'd tried it," said musician Amanda Shires, the friend who refused to give up on him.
"I just thought this person is my friend and this person is asking for help and that's what's going to happen and if it means that our relationship doesn't survive then that's just what is going to happen," Shires said.
In 2012, he entered treatment. He has been sober and clean ever since.
A year later, the woman who saved Isbell became his wife. Sometimes Shires plays with his band, but mostly she's a solo artist and often on a separate tour.
When baby Mercy was born, they agreed: sometimes she would tour with her mother, other times he would become country music's Mr. Mom.
"Whatever needed to be done I need to know how to do it just as well as my wife. You know, for us to be able to really balance the parenting," Isbell said. "It was very humbling and it was also, um--terrifying. Because you know giving a baby a bath for the first time is one of the scariest things you can do on this whole earth."
"After I quit drinking I thought I got a handle on this adult living situation and then that baby comes along and every corner becomes a death trap. Everything I see, is like somebody needs to put that away. Somebody could trip and fall and hurt themselves on this."
Asked what kind of dad Isbell is, Shires said, "The kind everybody wishes they had. He's a funny dad and he plays the games, changes diapers, makes food, great, a great dad."
Parenting on the road has brought Isbell a new focus: Mercy is the real headliner in the Isbell family.
"My wife may be the role model for our daughter in some ways, but I think I represent what she'll put up with. You know, I think one day she'll say, 'OK my dad behaved this way so if whoever I happen to fall in love with behaves this way it's got to be OK because I love my dad,'" Isbell said.
Isbell has won two Grammy awards, but he knows the prize that matters most is the reward of raising a happy, healthy child.
Thanks for reading CBS NEWS.
Create your free account or log in
for more features.