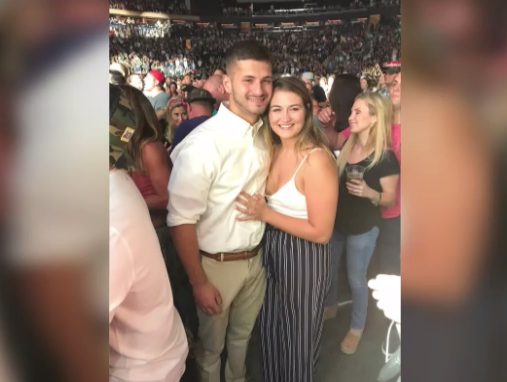 Jason Aldean toasts couple that got engaged at his Madison Square Garden concert
Fans hoping to see Jason Aldean at Madison Square Garden were treated to an unexpected show on Saturday. In the middle of the country star's set, one fan's boyfriend got down on one knee to pop the question.
Suddenly, she was saying "yes" in front of thousands, creating such a stir that Aldean stopped the show.
"I think if someone gets engaged, you've got to celebrate that," Aldean said from the stage. "So here's to you guys, may you guys have a long and blissful marriage."
Jess McCormack, 21, knew something was up when her boyfriend —now-fiancé — Alex Borsari wouldn't even let her leave their 100-level seats to go to the bar. She even spotted her parents in the crowd.
But when Aldean began to play "You Make It Easy" — the couple's favorite song — Borsari led her into the aisle and dropped onto one knee. The crowd immediately began cheering. She said yes — twice, because the crowd drowned out her first answer.
The crowd was so loud that Aldean stopped his show, as security led the couple to the pit in front of the stage. Borsari, 23, had told the crew at the arena about his plans beforehand, but he didn't know Aldean himself would notice the romantic gesture.
"I think somebody just got married. I don't know what's going on," Aldean said. He then asked the couple for their names and introduced them to the crowd and gave them a toast.
"I don't know when the wedding is and I don't know what your wedding song is, but I think that's pretty good one right there," Aldean added.
The couple, which has been officially together since March and "best friends" for years, doesn't have a date yet. But there's one thing they know for sure.
"It definitely is going to be our wedding song," McCormack told CBS News.
Thanks for reading CBS NEWS.
Create your free account or log in
for more features.