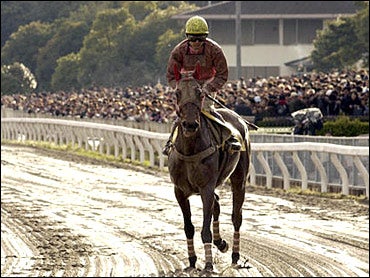 Without a doubt, Haru Urara is Japan's most celebrated animal.
Her face is everywhere, and as CBS News Correspondent Barry Petersen reports, there's talk of a movie about her life.
She is the star of a television commercial for a supermarket chain.
Before a big race, even the prime minister wishes Haru Urara well.
And at the track, little children shout encouragement.
Haru Urara means Serene Spring, and she's very serene because she most famous for losing.
One recent race drew thousands to watch her lose again.
And then cheered.
When is the last time a horse got a victory lap for finishing 10th?
The Japanese love her because even in losing, she always runs her heart out. In this country, what is most revered is doing your best, giving it your best, no matter the outcome.
Now she's become something else, a good luck charm. A losing betting slip for Urara is called a "no hit" ticket - good luck because it will supposedly prevent you from having a car accident. No hit on your bet, no hit on your car.
A song has been written about her. "Someday I will win" go the lyrics. Her perfect record says otherwise: 106 races so far, 106 losses. No matter. The little horse that can't is a star for racing to the max against even the longest odds.

Thanks for reading CBS NEWS.
Create your free account or log in
for more features.