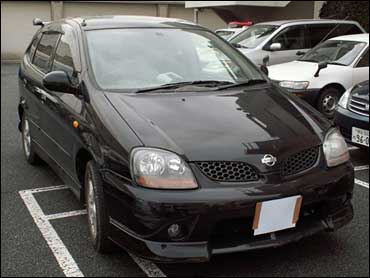 Japan Faces Wave Of Web Suicide Pacts
The scene has become chillingly familiar. A group of young Japanese was found dead from asphyxiation in a sealed car, charcoal stoves still smoking beside them — thought to be the latest victims in an alarming surge in suicide pacts arranged over the Internet.
The bodies belonged to five men and one woman, all in their 20s, police said. Authorities suspected the six met over the Internet before dying together Thursday night in a forested area about 50 miles northwest of Tokyo.
In a similar case earlier this week, a man and two women in their 20s and 30s were found dead in Aomori, 360 miles northeast of Tokyo. The three also died by inhaling charcoal fumes in a car, and police suspected suicide.
Internet suicide pacts have occurred since at least the late 1990s, and have been reported everywhere from Guam to the Netherlands. But in Japan, where the suicide rate is among the industrialized world's highest, officials are worried about a recent spate of such deaths.
A record 91 people died in 34 Internet-linked suicide cases last year, up from 55 people in 19 cases in 2004, the National Police Agency reported last month. The number of Internet suicide pacts has almost tripled from 2003, when the agency started keeping records.
"Depressed young people and the Internet — it's a very dangerous mix," said Mafumi Usui, a psychology professor at Niigata Seiryo University.
"Many young people try to kill themselves, but can't carry through. But when a group of strangers meet on an Internet suicide site, and someone suggests a specific way to die ... that's the dangerous dynamic behind the recent group suicides," Usui said.
Often designed with an ominous, pitch-black background, the sites host chat rooms spilling over with death wishes and exchanges of ideas on how best to take your own life.
Most sites appear to be frequented largely by young people, some still in their early teens, who are troubled by bullying, romantic breakups or abusive family members.
Many young peoples' troubles have their roots in the breakdown in community and family relations in a more affluent — but disjointed —society, Usui said.
"When Japan was poor, families did more things together out of necessity, like sharing a bath or eating together. And the community was much more important, especially in rural communities," he said.
"But now it's increasingly all about the individual. This leaves people more isolated, and likely to contemplate suicide."
Suicide has also long been a venerated act in Japanese culture. In feudal Japan, the ritual was considered an honorable death under the samurai warrior ethic, and contemporary movies and sitcoms still abound with characters who take their own lives.
Alarmed politicians have suggested suicide sites be regulated, or shut down. In October last year, police launched an online crackdown with the cooperation of Internet service providers, urging them to report to police the name and address of people apparently considering suicide.
Since then, authorities acting on tips intervened in 12 cases, preventing 14 people from killing themselves, national police said last month.
But experts have said the crackdown will only drive suicidal people to use more obscure or overseas providers, which are almost impossible to regulate. Others argue that the sites, by allowing suicidal people to share their concerns, prevent more deaths than they facilitate.
Though shocking, Internet-related suicides still represent a small percentage of suicides in Japan. More than 32,000 Japanese took their own lives in 2004, the bulk of them older Japanese suffering financial woes as Japan struggled through a decade of economic stagnation.
The recent economic pickup should bring that figure down, Usui said. Japan's economy has continued to recover from more than a decade of stagnation, supported by private consumption and growing industrial production.
But preventing Internet-related suicides among younger people is a whole different matter, he said.
"Unfortunately, the more younger people there are using the Web, the more suicides we're going to see," Usui said. "The Internet has brought a lot of convenience to Japan, but it has brought with it a lot of ills."
"The young know the value of material progress," he said. "Now we have to teach the importance of life."
By Hiroko Tabuchi
Thanks for reading CBS NEWS.
Create your free account or log in
for more features.